Wiki
Kingdom Hearts Re:Chain of Memories
キングダム ハーツ Re:チェイン オブ メモリーズ
Kingudamu Hātsu Re: Chein obu Memorīzu
Developer(s)
Square Enix
Publisher(s)
Square Enix
Release date(s)
March 29, 2007

Genre
Action role-playing game
Game modes
Single player
Ratings
CERO:A
ESRB: E10+

PEGI: 12

Platform(s)
PlayStation 2, PlayStation 3
"Memory is the key."
—Tagline
Kingdom Hearts Re:Chain of Memories is a full remake of Kingdom Hearts: Chain of Memories. It was first released on March 29, 2007 in Japan, and imported to North America almost two years later, on December 2, 2008. It was never released in the PAL region until the release of the HD remake Kingdom Hearts HD 1.5 ReMIX. In Japan, it is part of the Kingdom Hearts II Final Mix+ compilation, and has connectivity features with Kingdom Hearts II Final Mix. As there were no plans to release Kingdom Hearts II Final Mix internationally, these features were added with a condition of completing the stories for the North American release.
Major changes
Edit
While many changes were made between the two versions, by far the most important was the total redesign of the game to be a three-dimensional computer-rendered game for the Playstation 2, in the same style as the other released entries in the series, Kingdom Hearts and Kingdom Hearts II. This revamp included changing the battle arenas from two dimensional screens without "height" into full three-dimensional arenas, allowing enemies to rise out of the player's range.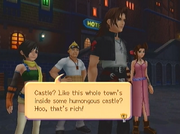 Additionally, these arenas can be aesthetically varied, even within the same world, while in the original game there was only one arena design per world. The "Duel" system, based on the game of War, was added to Riku's battle mechanics, and the Reaction Command system of Kingdom Hearts II was incorporated into both Sora and Riku's battle mechanics, generally to replace instances where the player would press the "A" button to continue a combo attack.
A smaller but still important change was the conversion of many of the game's scenes into fully voice-acted full motion videos, and the use of voice-acting within gameplay. While the dialogue for the game was recorded using the voice actors used in Kingdom Hearts II, the voicing and sound effects within gameplay relied largely on existing clips. In some cases, such as the Sora's invocation of the Stop spell, these clips were only available using the Kingdom Hearts voice-actors. As the scenes were now fully rendered, rather than being acted out with sprites, the violence within the game was more apparent, and the game's rating was raised from E to E10+, for Fantasy Violence.
The game's card system and overall plot remained the same as the original Kingdom Hearts: Chain of Memories, and "Simple and Clean" is the game's theme song. However, there were many small tweaks to the storyline, as well as the addition of new Cards, Sleights, bosses, and a Theater Mode to re-watch the game's full-motion videos.
Other differences
Edit
Story changes
Edit
Flashbacks from the first Kingdom Hearts are included in cutscenes.
Axel finishes off Vexen by immolating him with a snap of his fingers. In the original, he just struck Vexen with his chakrams a second time to eliminate him.
In the original, Goofy knocks away Larxene when she tries to kill Sora. In the remake, he just throws his shield at Larxene to temporarily distract her.
In the original, the Riku Replica is seen lying on the ground on Floor 12, and moving to him will trigger a cutscene (followed by a boss fight). In the remake, he is standing up, and a Reaction Command triggers the cutscene and boss fight.
When Guard Armor is fought in the original Kingdom Hearts: Chain of Memories, it is fought in the third district. But in Kingdom Hearts Re:Chain of Memories, it is fought in second district.
When Sora was hurt by Larxene in the original Kingdom Hearts: Chain of Memories, Donald used Cure to heal him, but i
Comments