Earlier this year, Diamond Select Toys
revealed prototypes of their Kingdom Hearts figures
at New York Toy Fair 2017.
Now, Diamond Select Toys have
shown off
improved versions of these figures at Chicago Comic & Entertainment Expo (C2E2) 2017. Last time they were shown, figures of Sora, Roxas, Axel, Mickey Mouse, Maleficent, Jafar, Iago, Abu, a Dusk Nobody, a Shadow Heartless, and a Creeper Plant Heartless were shown. This time, figures of Sora, Axel, Mickey Mouse, a Dusk Nobody, a Shadow Heartless, and a Soldier Heartless were shown. A Vinimate Sora can be seen in the back as well.
In the image, you can see some of the articulation of the figures. Not all of the figures will have the same amount of articulation, due to the size of the figures and due to how easy it is to hide the articulation in the sculpt.
Expect to see 8 - 12 in the character figures, and little or none in the Heartless figures.
UPDATE 1:
More detailed photos have been added of the Sora, Axel, Mickey Mouse, and the Soldier Heartless figures by Diamond Select Toys, which were featured about booth #817 at C2E2. You can view these images above.
UPDATE 2:
The official Diamond Select Toys Twitter account
has released an image of their Vinimates display at C2E2 2017 at their booth #817. In this display, you can see the Sora Vinimate and get a better look at him than in the previous photo. Sora can be seen on the third shelf down and to the right. View the image of the display below: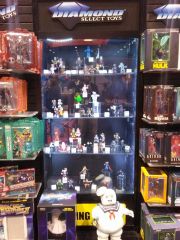 UPDATE 3:
Thanks to
@JayCochran
on Twitter, we now have a new photo of the Sora figure and a new photo of the Mickey figure. View these images with the other images above.