We have been recently contacted by our friends Jorge and Matthias from
Disney Central
regarding a
petition
to bring German, Spanish, and French dubbing in the upcoming
Kingdom Hearts III
. While this petition
has existed for quite some time
, Disney Central aim to close this by the end of 2017 (prior to
the release of the game in 2018
), and send the fans' signatures and comments to Square Enix Europe for consideration.
You can read the petition letter below:
We at KH13.com believe this is a fantastic cause, especially for bringing together fans of different backgrounds in the
Kingdom Hearts
community! We are committed to promote this petition, and urge all our fans to sign it!
You can sign the petition here. It only takes 30 seconds!
Disney Central have already been receiving statements from the Square Enix team in Germany, indicating interest in the petition.
The following is the initial response from Square Enix:
Unfortunately, we can't make this decision alone and are bound to coordinate with other territories and economic parameters. […] We will also try to realize all our customers' wishes and requests for Kingdom Hearts III, including a German dubbing. Of course, I can't make any promises right now as it is still too early. But I think that things aren't looking too bad.

(2013)
Another response followed after a year of campaigning for the cause:
As for the petition, we hesitate to forward information of this type to our team in Japan, of course. KINGDOM HEARTS 2.5 appears, as you know, without German language edition. But that does not mean that it is managed for future titles. We are eager to pass on the feedback from the community directly, so it is not unheard of.

(2014)
As you may already know, Square Enix have been conducting online surveys and questionnaires asking for fan feedback, including regarding
Kingdom Hearts
. Disney Central and the European fan community have been voicing the need for dubbing in their respective languages through these surveys as well.
We believe it's high time the English-speaking
Kingdom Hearts
community joins as well!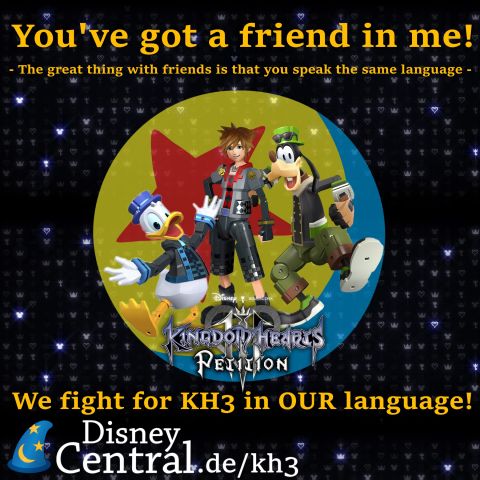 Visit the petition website here.
Visit the petition Facebook page here.