UPDATE 1
: Monogram Direct has released a new unboxing video for the
Kingdom Hearts
series 3D Foam Key Rings. You can check it out below.
The original article follows.
Monogram Direct has updated with a
page containing new Kingdom Hearts series 3D Foam Key Rings
, which will be released in November/December 2016. These Key Rings will be in 24 blind foil bags featuring Goofy, Pete, Roxas, Axel, Mickey, Sora, Riku, Kairi, Donald, Sora's Keyblade & Shadow characters.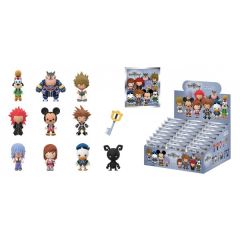 There are two types of packs you can get:
Inner Case (PDQ BOX): 24 Blind Bags
Master Case (6 Inner Cases): 144 Blind Bags
Currently, there is no price tag or official release date. We'll update you as soon as a date is available. Thanks goes to
KHInsider
for the tip.