The second anniversary for the Japanese version of
Kingdom Hearts Union χ[Cross]
is almost here! Currently, the game is featuring "countdown quests" to prepare for the celebration, and during these quests, a new pet feature was teased. While there isn't much information currently available for this new feature, a variety of pets will be available starting in mid-September! Thanks to
Mio-chan
and
Lady Aleister
for helping out with the translations.
It isn't currently known how these pets will be obtained, nor if they will be purely cosmetic or provide in-game benefits.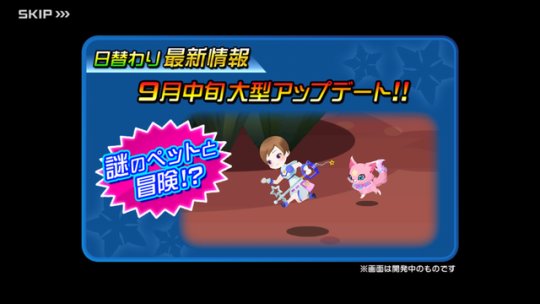 Update 8/27 PT
: The second countdown quest teases that a "2nd Anniversary Commemoration Cup" will be held starting September 18th JST, and with it the Union Armor sets last seen in
Kingdom Hearts χ[chi]
's 3rd Anniversary event will arrive!
Update 8/28 PT:
Players will be able to customize and strengthen their pets! Options shown include Head, Ears, Body, Feet, Tail, and Accessories.
Update 8/29 PT:
Also coming in September, players will be able to increase their level past the previous level cap of 300!
Update 8/30 PT:
Coming 9/1 is a new EX Medal? Who will it be?
This feature is one of many "large-scale updates" coming to the game in the weeks ahead. Be sure to follow our coverage of
Kingdom Hearts Union χ[Cross]
to find out what will be included next!
Are you excited to have pets accompany you on your adventures? What other features do you want to see added to the game? Let us know in the comments below!