Kingdom Hearts "See with Sounds" Memorial Music Box site has been released
The official Japanese
Kingdom Hearts
Twitter has recently
posted a tweet
that states "In honor of the release of KH 1.5+2.5, as well as the approaching 15th anniversary, we'll be opening the site "See with Sounds as a first in the series! There is also a present campaign planned! We're looking forward to it."
Thanks for Catherine Mueller who helped translate the post.
(
nichiei.translations@gmail.com)
UPDATE:
The
Kingdom Hearts
See with Sounds site has now been released!
Click here to visit it!
This site features the
Kingdom Hearts
Memorial Music Box, where you can listen to several songs from throughout the series while an animated Sora runs across your screen on a path of sheet music while pictures of his adventures fly past. When you click on the songs, a description of the song written by Yoko Shimomoura can be read. These heartfelt descriptions explain her thoughts behind the songs and her reasons for making them the way they are.
There's also a giveaway campaign that goes from March 9 - March 31. Fifteen people will be randomly chosen from a lottery to win an exclusive Kingdom Hearts Memorial Box Dearly Beloved music box! In order to enter the giveaway, you need to follow the official Japanese Kingdom Hearts Twitter and tweet your favorite memory of the series related to the series' story or music along with the hashtag #音で視るキングダムハーツ. View the Dearly Beloved music box below: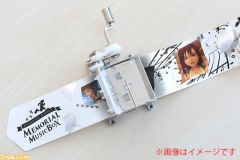 View images of the site below:
Thanks to
Famitsu
for the images!