Kingdom Hearts Funko Pop! Vinyl figures are now available for pre-order
An image has surfaced supposedly showing a list of a new and upcoming
Kingdom Hearts
Funko Pop! Vinyl figure that will be available at GameStop. This figure is King Mickey Mouse. KHinsider user
Kupo1121
uploaded a picture taken from a GameStop employee's computer which can be found below:
KH13 user
Power Jusho
has also confirmed that this Mickey figure is indeed available for pre-order now at GameStop. You can find an image of their receipt below.
Do you think a collection of
Kingdom Hearts
Pop Funko figures are coming our way? Let us know in the comments!
UPDATE 1:
Additional
Kingdom Hearts
Funko Pop! Vinyl figures and keychains will be released at GameStop in March of 2017. The figures include Donald Duck, Goofy, Pete, Chip, and Dale. The keychains include Donald Duck and Goofy. The Goofy figure will be exclusive to GameStop. The Chip & Dale figures will cost $18.99, the other Pop figures will cost $11.99, and the Funko Pop! Vinyl keychains will cost $4.99.
Credit to
@DisneyCheats
for the photo below:
UPDATE 2:
The figures are now available for pre-order from Amazon, but some of them are exclusive to certain retailers. Black and White Pete is only available from Walmart, while Kingdom Goofy is exclusive to GameStop.
UPDATE 3:
FunkoPopNews have given us a
first look
at a couple Funko Pop! Vinyl figures from
Kingdom Hearts
. Included are King Mickey Mouse, Goofy, Wizard Donald (Hot Topic exclusive), and a Donald keychain.
These figures along with Chip & Dale, Pete, and Goofy keychain are set to release in March. Gamestop is currently accepting
pre-orders
for the figures.
View the images of these figures and keychains below:
UPDATE 4:
Pete, Mickey keychain, and Goofy keychain
have also been revealed
by FunkoPopNews.
UPDATE 5:
Gamestop have
revealed
the Gamestop exclusive Goofy and Chip & Dale figures on a flyer. Thanks to
Disney Dan
for the find.
UPDATE 6:
The official website for Funko Pop! Vinyl figurines has
listed the aforementioned figures through their blog
, displaying a black and white Pete model that is exclusive to Walmart. The figurines will be available in April.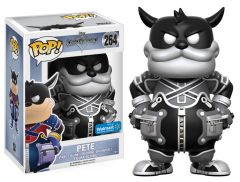 UPDATE 7:
A photo was released
by Funko that shows off some of the Pop! Vinyl figures as well as the
recently revealed Funko Pop! plushies
.
UPDATE 8:
Two more photos were released
by Funko that show closer looks at the
three plush characters
. View these photos as well as the photo from Update 4 below:
UPDATE 9:
A bunch more photos were released by KHInsider
and
Disney Dan
. It included photos of both the figures and the
recently revealed Funko Pop! plushies
. A video has also been released. View the photos below:
View the video by Disney Dan here:
UPDATE 10:
A pre-order poster for the
Kingdom Hearts
Funko Pop! Vinyl figures has been seen at Gamestop. A photo of it
has been taken by /u/Tgirl0 on Reddit
from their local mall. The photo can be seen below: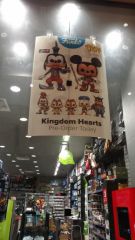 Which Funko Pop! Vinyl figure do you want? Let us know in the comments below.