KH13's August Merch Round-Up: Back to school items, Keyblades, and more
Summer vacation is over and KH13 has rounded up some
Kingdom Hearts
merchandise from August to make you a keyblade wielder for the new school year!
First off on the list is a
Kingdom Hearts
mobile wallet
by Trends International. Prices and which retailers will be carrying the mobile wallet is still pending.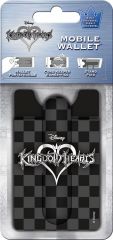 Hot Topic has got your back with an exclusive
Kingdom Hearts
polyester
backpack
by Loungefly to keep your elixirs, and your homework, safe. The backpack is retailing for
$34.99
but currently has a discounted price of
$15.00
.

An Organization XIII Order T-shirt is also for sale at Hot Topic retailing for $20.90-$24.90. Get 20% off this item if you purchase the t-shirt online.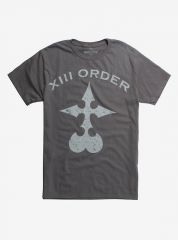 Thinkgeek has a ​Kingdom Hearts Sora themed backpack featuring an argyle pattern of Kingdom Hearts icons and a Sora color theme. A metal crown is displayed on the front pocket of the backpack and has a keyblade zipper pull. The backpack retails for $39.99.
Spencer's is selling a Kingdom Hearts Snapback Hat retailing for $24.99 and a Nobody-Heartless lanyard retailing for $7.99.
Spencer's Halloween store, Spirit, has also released their keyblades just in time for Halloween! The Kingdom Key and King Mickey's Kingdom Key Dark-side has been spotted thanks to
Churro
at Spirit's stores. Both
keyblades
retail for
$39.99
and can also be purchased from Spirit's online store.
Churro has provided comparison pictures of all the keyblades that have been released thus far.
Last year's Spirit Kingdom Key (left) VS Spirit's 2018 Kingdom Key and Kingdom Key Dark-side (right)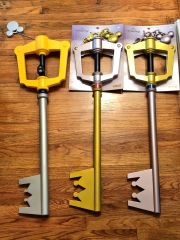 The Proplica Kingdom Key, last year's Spirit Kingdom Key, Spirit's 2018 Kingdom Key, Spirit's 2018 Kingdom Key Dark-side, and a foam Kingdom Key Churro purchased at Anime Expo.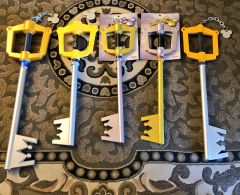 Diamond Select Toys have released a plethora of figures! Starting with the Kingdom Hearts Birth By Sleep Aqua and Goofy figures. Aqua, Goofy, and the remainder of Series 2 figures are exclusive to comic shops and specialty stores and retail for $24.99. Diamond Select has also created a Kingdom Hearts Select Series 3 set that contains 3 figures. The figures that are available in the multi-character sets are Black Coat Mickey with a Shadow Assassin and a Shadow, Space Paranoids Goofy and Tron with a Shadow, and Space Paranoids Sora (includes Photon Debugger) and Donald with Sark. Figure three packs retail for $24.99 and are set to release in December 2018. Last on Diamond Select's Kingdom Hearts releases are the Kingdom Hearts III Vininmates Vinyl Figures Series 1! These vinyl figures are set to release in ​February 2019 and feature Kingdom Hearts III Toy Story Sora, Donald, and Goofy . Each 4 inch figure has articulated necks to easily customize poses for display. Figures are packaged in a full-color windowed box and are available for pre-order for $9.99. See all Diamond Select Figures mentioned here down below!