FunkoPopNews have given us a
first look
at a couple Funko Pop! Vinyl figures from
Kingdom Hearts
. Included are King Mickey Mouse, Goofy, Wizard Donald (Hot Topic exclusive), and a Donald keychain.
These figures along with Chip & Dale, Pete, and Goofy keychain are set to release in March. Gamestop is currently accepting
pre-orders
for the figures.
View the images of these figures and keychains below:
UPDATE 1:
Pete, Mickey keychain, and Goofy keychain
have also been revealed
by FunkoPopNews.
UPDATE 2:
Gamestop have
revealed
the Gamestop exclusive Goofy and Chip & Dale figures on a flyer. Thanks to
Disney Dan
for the find.
UPDATE 3:
The official website for Funko Pop! Vinyl figurines has
listed the aforementioned figures through their blog
, displaying a black and white Pete model that is exclusive to Walmart. The figurines will be available in April.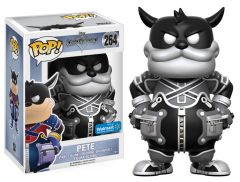 UPDATE 4:
A photo was released
by Funko that shows off some of the Pop! Vinyl figures as well as the
recently revealed Funko Pop! plushies
.
UPDATE 5:
Two more photos were released
by Funko that show closer looks at the
three plush characters
. View these photos as well as the photo from Update 4 below:
UPDATE 6:
A bunch more photos were released by KHInsider
and
Disney Dan
. It included photos of both the figures and the
recently revealed Funko Pop! plushies
. A video has also been released. View the photos below:
View the video by Disney Dan here:
UPDATE 7:
A pre-order poster for the
Kingdom Hearts
Funko Pop! Vinyl figures has been seen at Gamestop. A photo of it
has been taken by /u/Tgirl0 on Reddit
from their local mall. The photo can be seen below: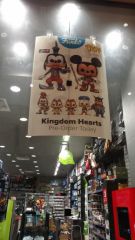 Which Funko Pop! Vinyl figure do you want? Let us know in the comments below.