The final volume of the Kingdom Hearts II manga will finally be released next week (August 22) in Japan. After starting back in 2006, it's great to finally see this manga series coming to an end. You can view the cover below.
Thanks go to
@ArikaMiz
for the tip. Additionally, we also have chapter 63, the final chapter of volume 9 scanned and translated thanks to
taime
,
catmaster0116
&
corfidbizna
.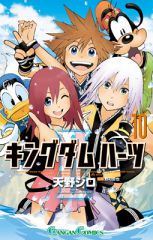 Update:
Tetsuya Nomura, the director of the
Kingdom Hearts
series posted a tweet regarding the final volume of the
Kingdom Hearts II
manga via the
official Kingdom Hearts Japanese Twitter
page. In the tweet he shows his appreciation on how well Shiro Amano, the artist for the
Kingdom Hearts
manga series has done with the manga. You can view a translation of the tweet below thanks to
goldpanner
.
The last volume of the comic adaptation of Kingdom Hearts II, by Shiro Amano, the first person other than me approved to officially draw Sora and the gang, releases on the 22nd this month. I wrote something for the paper wrapper. Please take a look. Now I am looking forward to the day he next does the honour of drawing for me.
Update 2:
For the Japanese release, each copy of the last volume of
Kingdom Hearts II
manga includes a special message from the
Kingdom Hearts
series director, Tetsuya Nomura. You can find the message below in both Japanese and English. Translation provided by KH13 News Team member
soraspromise
.
キヤラの活かし亢に惑心するばかり、出る前に読みたかった。次回作も気長にお待ちしております。

Due to the characters' high spirits, my heart was beguiled into reading this before it came out. For the next work, I will wait patiently.