A variety of
Kingdom Hearts
merchandise has been spotted at D23 Expo Japan 2018! While some of this merchandise has been sold at other events or through Square Enix's various online stores, a large portion of it has never been seen before! These exclusive items include mugs, tote bags, posters, T-shirts, bean plates, masking tape, a King Mickey-themed washcloth, KH-themed rubber grips and three different types of art prints! You can view photos of these items below,
courtesy of Twitter user 124Shuya
, with the image of the washcloth
courtesy of Twitter user Naxkia
, and the image of the art prints
courtesy of Twitter user Aros_evoL
.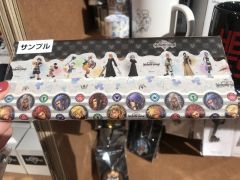 Which of these items would you buy if you were at D23 Expo Japan 2018? Let us know in the comments below, and
be sure to follow our coverage article
to keep up on everything related to D23 Expo Japan 2018 and the
Kingdom Hearts Fan Event
!