Diamond Select Toys display protoype Kingdom Hearts figures at New York Toy Fair
Diamond Select Toys have revealed a prototype of their own
Kingdom Hearts
figures at the New York Toy Fair 2017. The figures are still requiring licensing approval and there are plans for a mini figure collection. View the prototypes below: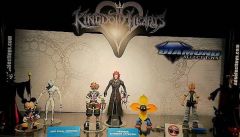 Currently the set will be sold for $24.99 USD. It features Sora, Roxas, Axel, Mickey Mouse, Maleficent, Jafar, Iago, Abu, a Dusk Nobody, a Shadow Heartless, and a Creeper Plant Heartless.
The planned collection of Mini figures would possibly feature Sora, Demyx, Auron, Donald Duck, Goofy, Jafar, Tron, and Sark.
Credit to @
khinsider
for the find.