Update: The track listing sheet from inside the album has been uploaded by 4Gamer.net. While none of this information is new, it is nice to see the tracks as they are presented on the inside.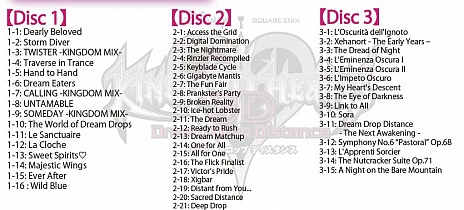 Kingdom Hearts Dream Drop Distance Original Soundtrack, the official soundtrack for Kingdom Hearts 3D [Dream Drop Distance], released today in Japan. The first image of this soundtrack being held by a customer has appeared online, and can be seen below! (Hopefully we'll get unboxing videos soon.)
A complete track listing with the track length for each can also be read below, written by KH13. The total length of the soundtrack is an impressive 3 hours, 22 minutes and 20 seconds! If you want to purchase the soundtrack, then you can do so from Play-Asia here, YesAsia.com here, or CDJapan here.
Disc 1
(52:22)
1. Dearly Beloved (2:42) by Yoko Shimomura (Arranged by Kaoru Wada)
2. Storm Diver (2:37) by Tsuyoshi Sekito
3. TWISTER -KINGDOM MIX- (4:48) by Takeharu Ishimoto
4. Traverse in Trance (4:53) by Yoko Shimomura
5. Hand to Hand (2:30) by Yoko Shimomura
6. Dream Eaters (2:57) by Yoko Shimomura
7. CALLING -KINGDOM MIX- (4:03) by Takeharu Ishimoto
8. UNTAMABLE (3:25) by Tsuyoshi Sekito
9. SOMEDAY -KINGDOM MIX- (4:52) by Takeharu Ishimoto
10. The World of Dream Drops (2:21) by Yoko Shimomura
11. Le Sanctuaire (3:04) by Yoko Shimomura
12. La Cloche (3:35) by Yoko Shimomura
13. Sweet Spirits♡ (1:32) by Yoko Shimomura
14. Majestic Wings (3:45) by Tsuyoshi Sekito
15. Ever After (2:16) by Yoko Shimomura
16. Wild Blue (2:53) by Tsuyoshi Sekito
Disc 2 (1:09:34)
1. Access the Grid (4:32) by Takeharu Ishimoto
2. Digital Domination (6:29) by Takeharu Ishimoto
3. The Nightmare (3:10) by Yoko Shimomura
4. Rinzler Recompiled (3:22) by Yoko Shimomura
5. Keyblade Cycle (4:54) by Takeharu Ishimoto
6. Gigabyte Mantis (3:44) by Tsuyoshi Sekito
7. The Fun Fair (3:30) by Yoko Shimomura
8. Prankster's Party (2:17) by Yoko Shimomura
9. Broken Reality (2:16) by Yoko Shimomura
10. Ice-hot Lobster (3:14) by Tsuyoshi Sekito
11. The Dream (2:01) by Yoko Shimomura
12. Ready to Rush (1:42) by Tsuyoshi Sekito
13. Dream Matchup (4:21) by Takeharu Ishimoto
14. One for All (2:54) by Yoko Shimomura
15. All for One (2:49) by Yoko Shimomura
16. The Flick Finalist (2:48) by Takeharu Ishimoto
17. Victor's Pride (1:27) by Tsuyoshi Sekito
18. Xigbar (1:48) by Yoko Shimomura
19. Distant from You… (4:44) by Yoko Shimomura
20. Sacred Distance (3:45) by Yoko Shimomura
21. Deep Drop (3:34) by Yoko Shimomura
Disc 3 (1:18:25)
1. L'Oscurita dell'Ignot (4:33) by Yoko Shimomura
2. Xehanort - The Early Years (2:09) by Yoko Shimomura
3. The Dread of Night (3:37) by Yoko Shimomura
4. L'Eminenza Oscura I (4:11) by Yoko Shimomura
5. L'Eminenza Oscura II (4:20) by Yoko Shimomura
6. L'Impeto Oscuro (4:56) by Yoko Shimomura
7. My Heart's Descent (3:01) by Yoko Shimomura (Arranged by Tsuyoshi Sekito)
8. The Eye of Darkness (3:17) by Yoko Shimomura (Arranged by Tsuyoshi Sekito)
9. Link to All (2:36) by Yoko Shimomura
10. Sora (2:29) by Yoko Shimomura
11. Dream Drop Distance -The Next Awakening- (8:55) by Yoko Shimomura (Arranged by Kaoru Wada)
12. Symphony No.6 "Pastoral" Op.6 (9:07) by Ludwig Van Beethoven (Arranged by Nobuko Toda)
13. L'Apprenti Sorcier (10:56) by Paul Abraham Dukas (Arranged by Nobuko Toda)
14. The Nutcracker Suite Op. 71 (9:55) by Peter Ilyich Tchaikovsky (Arranged by Nobuko Toda)
15. A Night on the Bare Mountain (4:17) by Modest Petrovich Mussorgsky (Arranged by Nobuko Toda)