Shortly before the D23 event occurring, Gamestop started showing the promotion material for Kingdom Hearts 3 by showing new renders in the pre-order marketing. Thanks to fluttershyjac on Instagaram for sharing a picture of the promotion piece.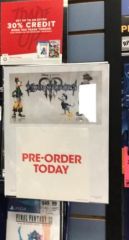 Don't forget to tune into our live coverage of Level Up! starting on Today at 12:00 PM PDT. Also, the livestream will begin today on Saturday, July 15th at 1:00 PM PDT and will stream on Facebook (This is Polaris) and on Twitch (jacksepticeye).

UPDATE: The promotional art is indeed fake.