Veemon
Member Since 13 Apr 2015
Offline
Last Active Jul 24 2018 05:31 PM
Hey there, everyone! I haven't been here very much lately, but I just wanted to drop by and say hi! I hope everyone is still doing great!
Updated 24 Mar · 1 comments
About Me
WELCOME TO VEEMON'S PROFILE!
Hey. The name's Veemon, but you can also call me by my real name, Steven! Ven is a nickname people call me on here, too, so feel free to use what feels best.

So anyway, in case you're wondering, my favorite things to do are: Gaming, Drawing, and watching anime. My favorite anime to watch are: Pokemon, Digimon, Full metal alchemist, and Jojo's Bizzare adventure. Oh, and I recently started watching My Hero Academia! Plus, I watched a bunch of other anime, like Ace Attorney, a tiny bit of One Piece, and Hunter X Hunter.

Now about the games that I like...


More about me:



Cool and conversation-starting things about myself:
I
DRAGONS! Dragons are life.
I love Pokemon and Digimon fairly the same, with my particular interests between them shifting at times.
Lonely Ex-Player 2... Now I can only seem to play Single Player games due to the lack of fellow players in certain things...

I take pride in my dreams and my beliefs, therefore I won't allow lies and negative critics take away my freedom of Religion OR Imagination (whatever that kind of freedom is like).
If you're wondering what my relationship is like, it's kind of in the "Single" range. But I'm also sort of searching at the moment, so that's good I guess.

As you can see from the blue text all over the place, I like to affiliate myself with the color blue, primarily.
I am terrible at writing literature, and theories and arguments are not my thing.
I like helping others, and sometimes, getting help from others.
I can never seem to find a good time to train myself to use a sword, but I want to train to do such a thing one day.
I desire to do a RP, and to do it with someone who will respect my choices, and in return I will do the same for them.

Also, I would like to add that if you are interested in something about me or you have a question about me, go ahead. Ask me with a PM! I'm basically on all the time. Thanks for reading my 'About Me'. I hope we can all be awesome friends!

I am also looking for other hardcore Final Fantasy Explorers players! I am currently in the 7* quests, and have mastered all of the jobs, with an Explorer level over 230. If you have the game and are around that level or below, or around that amount of progression in the story or earlier, let me know and we can trade friend codes!
I main Dragoon, Blue Mage, Black Mage, Sage, and can easily use the Sword-based jobs.
"Veemon, a Digimon You can Trust!"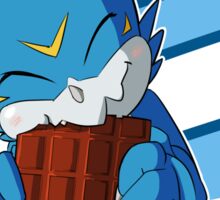 ↑

Pet Veemon Here

↑

(You may also pet me personally in a status below. Just don't pet too hard!)


Psst, by the way, most of you probably already can tell, but it's me, SteVentus.



---
Community Stats
Group

Member

Active Posts

1,521

Profile Views

22,259

Member Title

-Blue Knight-

Age

18 years old

Birthday

May 1, 2000