Veemon
Member Since 13 Apr 2015
Online
Last Active 3 minutes ago
About Me
WELCOME TO VEEMON'S PROFILE!
Hey. The name's Veemon, but you can also call me by my real name, Steven! Ven is a nickname people call me on here, too, so feel free to use what feels best.

So anyway, in case you're wondering, my favorite things to do are: Gaming, Drawing, and watching anime. My favorite anime to watch are: Pokemon, Digimon, Full metal alchemist, and Jojo's Bizzare adventure.

Now about the games that I like...
Well, I have this HUGE variety of games that I like to play, from Platformers to FPS, from RPG-MMO-FPS to Puzzle games, you name it. Here we go, here are the games that I have played or I am playing that I enjoy:

Super Mario Bros. (1-3)
Mario Paint
Super Mario World
New Super Mario Bros. (Original, Wii, 2, U, and Luigi U)
Super Mario 64 (original & DS (Every Star!)
Mario Party (4-8, including DS)
Mario Kart (from Super-8)
Super Mario Maker
Super Mario Galaxy (1 & 2)
Super Mario Sunshine
Super Mario 3D Land
Super Mario 3D World
Captain Toad: Treasure Tracker
Mario VS Donkey Kong (Original, March of the Minis, Minis March Again!, Mini Land Mayhem!, Minis on the Move, Mini Mario & Friends)
Dr. Mario (Express & Online Rx)
Digimon World Dawn
Digimon World 4
Digimon Story: Cyber Sleuth
Tales of Xillia (1 and 2)
Pokemon White (1 and 2)
Pokemon X
Pokemon Mystery Dungeon
Pokemon Trozei
Pokemon Picross
Xenoblade Chronicles 3D
Final Fantasy II
Final Fantasy XV
Final Fantasy: Four Heroes of Light
Final Fantasy Crystal Chronicles: Echoes of Time
Theatrythm Final Fantasy
Dissidia 012 Final Fantasy
Final Fantasy Explorers
Kingdom Hearts (1-3D, including 1.5 and 2.5)
Legend of Zelda: Majora's Mask
Legend of Zelda: Skyward Sword
Legend of Zelda: Triforce Heroes
Legend of Zelda: Four Swords Anniversary
Hyrule Warriors (Wii U)
Metroid: Other M
Yoshi's Island DS
Yoshi Touch 'n' Go
Yoshi's New Island
Luigi's Mansion
Luigi's Mansion: Dark Moon
Scribblenauts
Super Scribblenauts
Scribnlenauts Unlimited
Drawn-to-Life
Drawn-to-Life: The Next Chapter
The World Ends With You
Animal Crossing: Wild World
Animal Crossing: City Folk
Kirby's Epic Yarn
Kirby & the Amazing Mirror
Kirby & the Canvas Curse
Kirby Squeak Squad
Kirby 64: Legend of the Crystal Shards
Kirby Superstar Ultra (Truly 100% + completed ALL Helper to Hero)
Kirby Air Ride
Kirby's Return to Dreamland
Kirby Planet Robobot
Sonic the Hedgehog (1,2,3)
Sonic & Knuckles
Sonic CD
Sonic Adventure (1, & 2 Battle)
Sonic R
Sonic Battle
Sonic Advance (2 & 3)
Sonic and the Secret Rings
Sonic and the Black Knight
Sonic Unleashed
Sonic Colors
Sonic Lost World
Portal (1 & 2)
Dungeon Defenders
Resident Evil (6 and Revelations 2)
Metal Gear Rising
Borderlands 2
Tetris DS (ALL THE WAY TO LVL 999 IN MARATHON)
Meteos (It's a less-known DS game. Pretty fun!)
Wario Ware DIY
Wario Land Shake It!
Wario World
Wario Ware Smooth Moves
Kid Icarus
Kid Icarus: Uprising
Excite Bike
Professor Layton (Curious Village, Diabolical Box, Unwound Future, and Last Specter)
Ace Attorney: Apollo Justice
LittleBigPlanet (1, 2 & 3)
Super Smash Bros. (Melee, Brawl, and SSB4)
Unfinished Swan
LEGO City Undercover (Those Starmen, though!)
LEGO Indiana Jones (1 & 2)
LEGO BATMAN
LEGO STARWARS (Complete Saga)
LEGO Marvel Super Heroes
Puzzle & Dragons Z + Puzzle & Dragons Super Mario Bros. Edition
Puzzle Quest
Picross 3D
Dungeon Maker (DS)
Street Fighter 2 Turbo
Street Fighter V
Devil May Cry 3
Castlevania: Order of Ecclesia
Lightning Returns: Final Fantasy XIII
Disgaea DS

...I would go on, but we have other things to discuss!

More about me:



Cool and conversation-starting things about myself:
I
DRAGONS! Dragons are life.
I love Pokemon and Digimon fairly the same, with my particular interests between them shifting at times.
Lonely Ex-Player 2... Now I can only seem to play Single Player...

I take pride in my dreams and my beliefs, therefore I won't allow lies and negative critics take away my freedom of Religion OR Imagination (whatever that kind of freedom is like).
As you can see from the blue text all over the place, I like to affiliate myself with the color blue, primarily.
I am terrible at writing literature, and theories and arguments are not my thing.
I like helping others, and sometimes, getting help from others.
I can never seem to find a good time to train myself to use a sword, but I want to train to do such a thing one day.
I desire to do a RP, and to do it with someone who will respect my choices, and in return I will do the same for them.

Also, I would like to add that if you are interested in something about me or you have a question about me, go ahead. Ask me with a PM! I'm basically on all the time. Thanks for reading my 'About Me'. I hope we can all be awesome friends!

I am also looking for other hardcore Final Fantasy Explorers players! I am currently in the 7* quests, and have mastered all of the jobs, with an Explorer level over 230. If you have the game and are around that level or below, or around that amount of progression in the story or earlier, let me know and we can trade friend codes!
I main Dragoon, Blue Mage, Black Mage, Sage, and can easily use the Sword-based jobs.
"Veemon, a Digimon You can Trust!"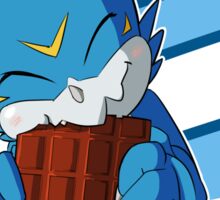 ↑

Pet Veemon Here

↑

(You may also pet me personally in a status below. Just don't pet too hard!)


Psst, by the way, most of you probably already can tell, but it's me, SteVentus.



---
Community Stats
Group

Member

Active Posts

1,502

Profile Views

14,895

Member Title

Kyoko's Assistant Detective -Blue Knight-

Age

16 years old

Birthday

May 1, 2000