Javelin434
Member Since 07 Feb 2013
Offline
Last Active Yesterday, 11:55 PM
About Me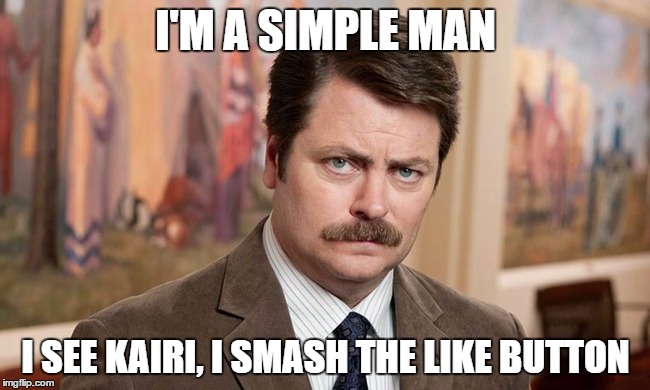 "She's in your heart and in your mind, Javelin. That's all you need for her to be real. She's as real as any person can be, but more importantly she's real to you. It doesn't matter if people make fun of you for that. I mean sure, it may be a sign of really deep and personal issues, but if she's the reason your heart is still beating, why you're still ticking, why you can keep living despite what life has thrown at you, then who the hell do you think that motherf**ker is to put you down and make fun of you over loving a fictional character? B*tch slap that mofo, quote Kairi and say "This time, I'll fight." Kick 'em in the balls! Poke their eyes out! If life gives you lemons, use that s**t! Split it in half and bury it into their eyes! Make 'em cry! Make them regret the day they decided not to take Kairi seriously!!! Hold 'em down and tear that son of a- Holy sweet jesus, she's adorable! Now where was I? Aww crap, I... I lost track, but you know what I mean right?"
-A close friend of mine, or someone here on the forums. I'm trying to remember
Hello there! I won't disclose much about me (this is the internet after all.), but since this section is titled "About Me" I can't help but feel obligated to say at least
something.
I'm a 21 year old
dude
that lives in the central US, love to practice piano (working on the KH Piano Collections actually, specifically Kairi's Theme which I've almost memorized by heart, Dearly Beloved, Namine, Xion, and others), love the game as well as Final Fantasy and Ace Combat!
Hobbies:
sleeping, piano, sleeping some more, video games, more sleeping, daydreaming, did I mention sleeping?
Music:
Adult Contemporary aka Slow romantic ballroom music (Don't judge please...)
Favorite Video Games:
Ace Combat, Final Fantasy, Kingdom Hearts, Mechassault, Halo
Favorite Quote:
Now! This is it! Now is the time to choose! Die and be free of pain or live and fight your sorrow! Now is the time to shape your stories! Your fate is in your hands!- Auron
I'm generally a quiet guy who typically avoids social contact with others unless I really need to talk to someone. As such, I rarely have any friends, and the number of friends that I have in reality can be counted on one hand. But since my friends and myself included are all busy with school, work, life, etc. I rarely get the time to meet them, and as such, am usually alone for the entirety of the year. Loneliness is not the best thing for the mind, so I come here to the forums to not only keep my sanity in check by daily fanboying and worshipping over Kairi [and Xion, occasionally Namine], but also to hopefully interact with others in a way that I am comfortable with; a screen and a keyboard.
About that whole 'friends' concept, I've somehow managed to make a couple here on this site. This list is only a small part of a much larger list, showing the notable reasons why I'm friends with them.
Been interested in the Kingdom Hearts series for a while and have only recently completed it, the only game I haven't played being DDD. Favorite game would probably be KHII, reason being finally seeing Sora, Riku and Kairi

(yay!)

reuniting with each other. Favorite characters other than the hero Sora would definitely be Kairi (specifically KH1 Kairi
), to the point that I fear that I may have an unhealthy liking

(

obsession...)

of her (i.e I got wallpapers of her on all my devices and other places
. ) I can't help it if she's so ADORABLE!!!!!

*ahem*

Sorry,


There are 7 Kairi's here. Find them all!
Riku, Axel, Namine, and Xion (Dear god,
Xion...
)
are also my favorite character from the KH series. I feel as though I can absolutely relate with Riku, with the whole angsty behavior (that's totally me.)
I'm hoping that Sora and Kairi get to kiss each other sometime soon in a memorable way and yes, if you haven't figured it out I'm for the SoKai pairing. (

They're so

CUTE!

(Sorry...)

Just as cute as Squall and Rinoa from FFVIII. I'm really hoping it will be as memorable as Tidus and Yuna's kiss from FFX).

But I do have to admit, I do feel bad about Riku, and I feel for him.
If you've ever wondered where the title "Kairi's Nocturnal Guardian No. IV" came from, believe it or not I've imagined myself as something like this ever since I finished KH1, CoM, and 2. A fantasy self-insert character to help me cope with the harsh, cruel world known as reality. I actually thought of a backstory
, basic synopsis further down the page.
Well...
Even though I prefer KH1 Kairi, I'd be lying if I didn't say that I like her other versions on basis of looking very ah... appealing. Case in point...
Quick link to all
Kairi's Theme music
Drawings made by people here on the site:
MOAR KAIRI

(And Xion because I like her too... I haven't forgotten about you Xion!)

http://


Squueeeee!!!*

Some more Kairi

(and Xion)

for

good luck





Sora x Kairi Subsection






Xion Subsection



I... uh.........
http://



zzzzzzzzZZZZZZZZZZzzzzzzzz Wha-?


I'm surprised that you continued to scroll down. Are you really THAT bored?



... Until that time comes, fan-made pictures will have to do. Combined with the music, it's about as close as I'll ever get to seeing this happen (Hop to it Square Enix!)


In the meantime... EVEN

MOAR Kairi!!!




http://http://http://http://



"Thinking of you wherever you are. We pray for our sorrows to end, and hope that our hearts will blend. Now I will step forward to realize this wish. And who knows, starting a new journey may not be so hard, or maybe it has already begun. There are many worlds, but they share the same sky. One sky, one destiny." - Kairi



So let me come to you, close as I wanna be...




Close enough for me




To feel your heart beating fast...




And stay there as I whisper, how I loved your peaceful eyes on me




Did you ever know, that I had mine on you?

- I wish S

ora

would say something like this to Kairi, or vice versa


Also, the lyrics to "Eyes on Me", Final Fantasy VIII




--------------------------------------------------------------------------------



Roleplay Section


Roleplays that my primary OC has been 'deployed' to (There is a bit of a timeline for these RPs in relation to each other):



KH Revelations




KH Worlds at War

[Completed]




KH Vanguard [Along with Luna!]

[Completed]


KH Vanguard II


KH Lightfall

[Shutdown]



Other Roleplays I'm involved in:

KH Rewind: Civil War
KH Dark Uprising
KH Fade Into Light
KH Fade Into Light
KH: Decolor Censura
KH: The Pit

--------------------------------------------------------------------------------

If you've seriously read everything (including the Roleplay Character information), I congratulate you for doing so and I hope that was 15 minutes and 47 seconds well spent. I'm so sorry for whatever made you to read all of this. Here, have a jar of cookies to ease the trauma... You need it.




For crying out loud, she's so
CUTE!!!
*
Haha, you would be acknowledging that fact. Silly Kairi
*
Fun Personality Quiz here! ISTJ all the way! The rest of you suck! Just kidding...
Signatures:
Original:



Signature Secondary:




Secondary Signature:


---
Community Stats
Group

Member

Active Posts

2,412

Profile Views

43,027

Member Title

Kairi's Nocturnal Guardian No. IV & LaG Vindicator

Age

Age Unknown

Birthday

Birthday Unknown