Square Enix have
updated their official Kingdom Hearts blog
to explain a newly announced feature in
Kingdom Hearts 3D: Dream Drop Distance
. As you can see from the screenshot below (click for a larger image), the game will feature a "Memoirs" section that will summarize the Kingdom Hearts series and present the information chronologically. This will help people to understand the game if they have not played some of the previous games.
Update:
Pavlovic Sarah from KH13
has translated the blog post from Square Enix. You can read this translation below.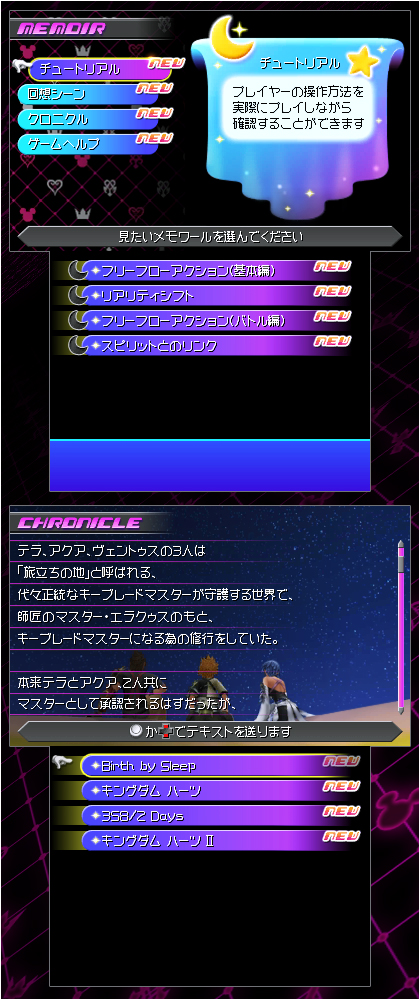 Kingdom Hearts 3D [Dream Drop Distance] will contain a menu called MEMOIR.
First screenshot:
Tutorial → You can use this guide to confirm gameplay aspects
Reflection Scene
Chronicle
Game Help
Choose the Memoir you want to see
- Free Fall Action (Normal)
- Reality Shift
- Free Fall Action (Battle)
- Spirit Link
Second screenshot:
Terra, Aqua, Ventus were in the world called Land of Departure, which is protected by generations of students of Keyblade masters, to practice under Master Eraqus to become Keyblade masters.
Originally, Terra and Aqua were both expected to became accepted as masters, but...
- Birth by Sleep *this one is selected*
- Kingdom Hearts
- 358/2 Days
- Kingdom Hearts II
In MEMOIR, you will be able to check the tutorial as often as you want and get various reflection-scenes of the story as you advance through the game. You will also be able to see your game progress in this menu.
Furthermore, in CHRONICLE you will be able to see the explanation of the past series, and therefore, those who are playing Kingdom Hearts for the first time will be find a summary of the story and be able to enjoy the game even more.