Today, a preview and some details of the upcoming PVP Mode in the next version update (v2.6.0) has been released:
Players will face off against other players, using three Keyblade decks.
Players have infinite HP, so the objective is to deal more damage than the other player!
The three Keyblades will be used one at a time in a three-round battle; the player that wins the first two rounds will win overall.
Keyblade order can be customized.
The same medal cannot be used in more than one deck!
The player who gets to attack first alternates each round. Buffs and debuffs that last multiple turns will also carry over between rounds.
PVP Mode will have monthly rankings.
The Keyblades that can be used are predetermined during this time period.
Until May 21st at 23:59 PT, four special medal deals featuring the Stained Glass #1-4 EX+ medals will be open! To celebrate over 8 million downloads of the game worldwide, the first pull of each deal will be free.
Each featured Stained Glass medal is guaranteed within 5 pulls in their respective medal deals, and their respective Trait Medals are guaranteed with each pull. Each pull otherwise guarantees 3 Mirrors.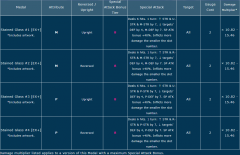 Lastly, until May 2nd at 23:59 PT, the Bonus Jewel and the Guilt Bonus Campaigns are being held!
Jewel Package // Campaign Bonus Jewels // Campaign Bonus Skip Tickets (Normal Amount ⇛ Campaign Amount)
100 Jewels // +10 Jewels // 0 ⇛ 0
540 Jewels // +10 Jewels // 2 ⇛ 4
1,700 Jewels // +50 Jewels // 7 ⇛ 14
2,400 Jewels // +100 Jewels // 10 ⇛ 20
6,600 Jewels // +400 Jewels // 25 ⇛ 50
14,700 Jewels // +1,300 Jewels // 50 ⇛ 100

Images from this update can be viewed below. Are you pulling for these new medals?