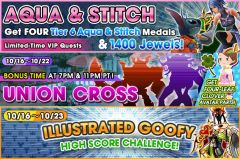 Another week in KHUX means another week full of events!
Aqua and Stitch VIP event! Buy VIP and get 4 Aqua and Stitch medals + 1400 jewels!
Aqua & Stitch: Upright/Speed // Tier 6 Guilt // Random-target // 0 SP Cost // Atk+1 and PSM atk+1 for three turns, 4 SP recovery, stronger if more special attacks have been used in succession, 3 hits
Four Leaf Clover Union Cross event held until October 22nd at 23:59 PT! Clear Union Cross quests and collect coins to obtain the Four-Leaf Clover avatar part (Item Drop Perk +3), Jewels, Magic Mirrors and a Magic Broom! Bonus Times are at 7:00 PM and 11:00 PM (PT), for 30 minutes each every day. There are a total of four Cross Boards available this time, two boards for the F and M Four-Leaf Clover avatar parts, a Magic Broom set, and a Magic Mirror set.
Illustrated Goofy High Score Challenge held until October 23rd at 23:59 PT! Score high to obtain this powerful medal! Top 1000 rankers will receive a Boosted Illust Goofy.
Illustrated Goofy: Upright/Power // Tier 6 Guilt // Random-target // 3 SP Cost // P atk+5 for one turn, 11 hits
During this same time period, the trio of Gem Board Deals will be open again for 2000 Jewels each. Their contents are as follows: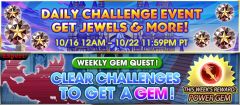 Be sure to clear the Daily Challenge Event quests this week to obtain Jewels and more!
And finally: This week's Weekly Gem Quest offers a Power gem!
Are you ready?
Edited by faemarch, 16 October 2017 - 02:31 AM.