1
Uploaded: Jun 22 2018 09:56 AM
Views: 161
Category: Drawings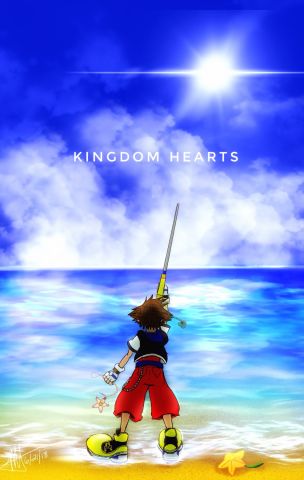 I uploaded this to my Twitter and few other social media. But I figured I should upload this here.

I am working on a dedication project that's in a way related to a countdown. I will play every playable game (including the DS games + their movie counterparts...Union Cross is an acception because the story is not finished yet LOL) then I will draw them out based on that game and this will be monthly. Example: KH1 in June, Chain of Memories (including reverse/rebirth) in July, KH2 in August, etc etc.

Starting with, of course, the beginning of the series, simply just Kingdom Hearts. We all remember: inserting the disc to our PlayStation 2, hearing dearly beloved, being blown away by the opening, going through the tutorial starting with out own choices (I know most of us chose the sword LOL), fighting the once terrifying Darkside, exploring Destiny Islands, hanging out as Sora with Riku and Kairi, fighting heartless, getting a Keybalde, meeting with Donald and Goofy, going to many Disney worlds, meeting a few Final Fantasy characters like Cloud, facing difficult bosses, solving puzzles, the final boss, the ending. All of that for the first time was magical. A mix of Disney with the aesthetics of Final Fantasy was what many of us would never dream of would exist. Here we are now with the many games after KH1 getting us prepared for KH3, a revolution we are ready to face.