Recent Topics
Poll of the Day
Follow Us
Recent Status Updates
Message from the KINGDOM has been updated with a new blog post about the development of Kingdom Hearts 3D [Dream Drop Distance], titled "Creator's Voice". The post is split into 4 sections, containing sections for the programmer, designer, producer and event planner of the game.
Update: goldpanner has translated the blog post entirely, and thanks to her, you can read the whole thing below!
Hello ♪
I'm Yasue, a game developer for KH3D.
The publicity department asked me to write up some of KH3D's appealing points, but seeing as the contents of the game have already been explained pretty well on the official site and in magazines etc, after worrying for a bit I thought I'd go with a bit of a change of pace.
KH3D is on sale now, and I have been reading a lot of player reviews etc for KH3D lately. There really are a lot of play styles. Actually, you can't beat the development staff for that, either.
Today I will introduce the best playing styles chosen from among them and pierce through to the character behind that sort of play in a piece titled: "Gameplay Weirdos: a Clinical Record!"
※This post will probably get me scorned from the development team, so I have intentionally used the initials for the names of the weirdos.
------------
■ Case 1: Howling Flick Rush Patient (Programmer Mr. K.K.)
There's the programmer in charge of Flick Rush, K.K. He is very loud when playing with Flick Rush. After I moved to Osaka, I was surprised to see people from Kansai being the straight man on comedy programs. He's nothing like that. Every time he does wireless battle he begins with a resounding scream of 'WHY???', and then gradually heats up in stages: 'ARRGH!' → 'HAX!!' →'NO! NO! NO! NO YOU DON'T~!! The programmers working in silence within a 20m radius receive damage from the noise. He seems to be risking his life by playing. Thanks to K.K.'s straight hot blooded style, he freely argues his opinions, and as a result, the quality of Flick Rush went up and up. I definitely want to work on something with him again. But, from a seat a little further away…
-------------
■ Case 2: Morning Bell Mania (Designer G.K.)
Did you know that if you use Morning Bell, you can avoid the drop? In the final stages of development, designer G.K. used this strategy first and foremost. If you use Morning Bell and continue the game with the minimum drop, you earn drop points and can get powerful drop bonuses, which is very helpful for defeating the formidable enemies in Proud Mode and Critical Mode. However, I don't think G.K. chose this tactic because he was thinking ahead like that. He's the type to get caught up in the moment at drinking get-togethers and shout everyone drinks, and then run out of money by the end of the month. I think he probably wants to see one goal to the end with incredible concentration and thus refuses to drop. For example, if you call out to him when he's in the middle of drawing a picture he will jump up and down without fail, but that's because he concentrates wholeheartedly on one thing at a time. He's the sort of feverish character who never leaves halfway through drinking get-togethers, set on keeping excitement mounting until morning. For someone like me, who can't concentrate and has to cut off everything short-term and move on, I make up some reason to abstain from his drinking get-togethers (the week before last I declined saying I had to go buy nam plaa Thai sauce), but all the development staff, including me, love him very much and I think his wholehearted playing style is charming.
---------------
■ Case 3: Poking Demon (Producer R.N.)
R.N. will be poking Wonder Nyan whenever I see her. She is a poking master who holds the perfect posture in her seat in front of the 3DS, and can even continue poking in her sleep. I've also seen R.N.'s poking become more violent in proportion to stress-levels. It might just be me, but I think she's actually poking away her stress by projecting the person who annoyed her onto Wonder Nyan… For example, in her mind she may replace Wonder Nyan with Yasue, who made a late proposal, and poke away muttering "time for your punishment!" In any case, her eyes glitter while she's poking Wonder Nyan. If there are people who are stressed out by family or co-workers, I recommend a friendship with Wonder Nyan. Wonder Nyan is not just a cute character, it is a cute character that is good for your health.
---------------
■ Case 4: Gameplay Allergy of the 80s Nerd (Event Planner M.M.)
Event Planner M.M. is the only person I know who tries to clear the game without changing the Keyblade once. According to him, he gets goosebumps and wants to throw up just from seeing the words in the camp menu… At first glance it seems a fatal condition for a game developer, but M.M. flourishes drawing storyboard sketches and making elaborate camera shots and angles. M.M. is a nerd for dramas and idols and anime from the 80s, and his pictures have an 80s anime style. He is captivated by the pure situations in pure love dramas, and is head over heels for the bond between Riku and Sora's hearts in KH. He thinks it is heresy to compare the attack powers of Keyblades and alter the equipment in small ways. I am the type who enjoys the feeling of defeating formidable enemies by tampering with small things in the camp menu, but I also think clean and earnest play styles like M.M.'s are lovely.
-----------
When developing KH3D, the development staff kept various opposing personalities and ideas in mind. As written in the above clinical records, it's okay if you have no interest in gameplay but are head over heels for story, or if you don't really want to drop, or if all you want to do is poke your Spirit. There are a lot of choices within the game, and a huge theme of the game is that every option can be completed in both charming and edgy ways. Those playing KH3D now, those who still want to play, please find a playing style full of originality suited to yourself, and play KH3D until you drop!
Kingdom Hearts 3D11 April 2012 by DChiuch
Thanks to Media Create, via andriasang.com, we have game sales information in Japan for the week of April 2 through April 8, 2012. This is, of course, the second week during which Kingdom Hearts 3D [Dream Drop Distance] has been released. It sold 42,231 copies in the week (making it the second-most sold title in the week), for a total of 255,810 copies so far.
Kingdom Hearts 3D [Dream Drop Distance] has appeared with an article in the April 12, 2012 issue of Famitsu Weekly, celebrating the 10th Anniversary of the Kingdom Hearts series. We do not yet have full scans, but some details about the article are starting to appear online. Thanks to ArikaMiz, we know that the article has made mention of another Dream Eater AR card which will be available with issue of Famitsu Weekly releasing on April 19, 2012. You can see this scan below.
Kingdom Hearts 3D11 April 2012 by DChiuch
Update: The Facebook page for the Square Enix e-STORE has uploaded a set of photos of the Kingdom Hearts Dream Drop Distance Original Soundtrack. These photos show off the cover of the album, as well as the discs and booklet inside. You can see these photos below.
The first photo of the Kingdom Hearts Dream Drop Distance Original Soundtrack, the official soundtrack for Kingdom Hearts 3D [Dream Drop Distance] has been shown online. Although we have already seen the cover of the album, it is nice to see a real life version of it! This photo is of Takeharu Ishimoto's very own copy. Ishimoto is one of the composers that worked on the soundtrack together with Yoko Shimomura. You can see the photo below.
Kingdom Hearts 3D10 April 2012 by DChiuch
About a month ago, the ESRB rating for Kingdom Hearts 3D [Dream Drop Distance] was revealed to be E10+ "with Fantasy Violence, Mild Suggestive Themes". Square Enix later changed this to say "RP Rating Pending".
Now, Square Enix have again updated the official Kingdom Hearts Facebook page to say "E10+ with the descriptor Fantasy Violence". Interestingly, the "Mild Suggestive Themes" descriptor is now missing! This could just be a small oversight, or it could mean something has changed-- either way, we should be happy that Square Enix are slowly revealing more information about the English version of the game, which is set to release in North America on July 31, 2012.
Earlier, it was announced that some stores in Japan would be giving away a special folder with pre-orders of Kingdom Hearts 3D [Dream Drop Distance]. A Japanese store has started selling these folders online, and with that, have published a photo of one. It seems to be different to the one we've already seen from people who pre-ordered the game, so we know there are at least two different Kingdom Hearts 3D folders being produced. You can see the photo of it below.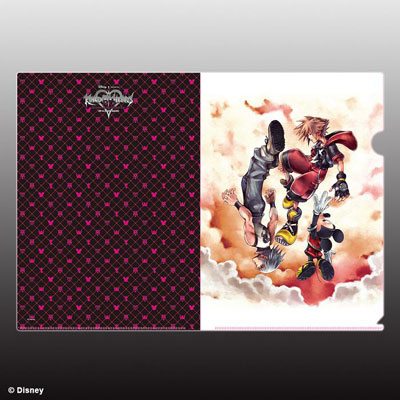 Update: The Square Enix Shop has updated to say that these Formation Arts are now available. They are now available together in a boxset (picture below), for a price of ¥6,000 (approximately US$73.41).
Thanks to a post on Final Fantasy Merchandise forums, we now know that new Kingdom Hearts figurines will be sold. These new Formation Arts, with the set name "Kingdom Hearts 2 Vol. 2", are set to go on sale sometime later. They are Sora (Master Form), Roxas (Organization XIII), Axel, Sora with Donald and Goofy (Pride Lands), and Twilight Thorn. You can see them below, in our gallery. Thanks to M_Alloc for the tip.
Mike Degler from BradyGames has revealed in an interview that BradyGames will be making a guidebook for Kingdom Hearts 3D [Dream Drop Distance]. Not much else is known at this stage, but you can see the full quote below. Thanks to Pandora333 from KH13 for the find.
MCV: What other guides are you working on over the next year?
MD: We have Diablo III, Max Payne 3, Guild Wars 2, Borderlands 2 and BioShock Infinite to name a few. We just secured a deal with Disney to do the next Kingdom Hearts title for 3DS. We recently released the Street Fighter X Tekken guide which is a really great fighting game guide. We actually use tournament-level players to help with the book and it has some killer strategies in it.
The next issue of V Jump magazine, set to release on April 21, 2012, will contain a Dream Eater AR card for Kingdom Hearts 3D [Dream Drop Distance]. This card will unlock an exclusive Dream Eater Spirit in the game, known as "Vacation Seal". The V Jump website has been updated with the first image of this Dream Eater, and you can see this below. Thanks to bKvEBVAvUq for the find.
Update: If you want to buy this issue of V Jump and receive the exclusive Dream Eater AR card, then you can do so by ordering it from Amazon.co.jp. Thanks to JayC from KH13 for the tip.
Update 2: V Jump have published another graphic which advertises the issue of the magazine, and the exclusive AR card. You can see this below.
Kingdom Hearts 3D08 April 2012 by DChiuch
PAX East 2012 (or, the "Penny Arcade Expo") is a gaming event in Boston that ran between April 6 to April 8, 2012. While Kingdom Hearts 3D [Dream Drop Distance] was not on Square Enix's line-up of games for the event, it did actually appear with some small coverage. Firstly, we have a nice image of a Kingdom Hearts 3D cube below, which appeared at the event. This was uploaded by SquareEnixEmily.
Secondly, thanks to GameZone, we know that Kingdom Hearts 3D appeared at the event with a demo entirely in Japanese. Hopefully, we'll see some English demos later on, but if you would like to read impressions of the Japanese demo then read on. This Kingdom Hearts 3D demo was press-only, and not playable by members of the public.
GameZone's impressions of the Kingdom Hearts 3D demo
The Game Fanatic's impressions of the Kingdom Hearts 3D demo
Game Rant's impressions of the Kingdom Hearts 3D demo
Destructoid's impressions of the Kingdom Hearts 3D demo
Escapist Magazine's impressions of the Kingdom Hearts 3D demo
Update: If you read The Game Fanatic's impressions of the demo, then you might notice the following excerpt:
We were told that a fully functional English demo would of been available a week later.
How interesting! It seems that Square Enix are preparing an English demo for Kingdom Hearts 3D. It sounds like this will most likely be a press-only demo as well, but who knows, if we're lucky then we might see the demo elsewhere!