Recent Topics
Poll of the Day
Follow Us
Recent Status Updates
HD 1.5 ReMIX20 March 2013 by Arturo Molina
Kingdom Hearts HD 1.5 ReMIX released in Japan on March 14, 2013. 4Gamer.net have revealed that between March 14 and March 17, the game sold 128,414 copies. For the week between March 11 to March 17 in Japan, this placed HD 1.5 ReMIX in 2nd place, just behind Sword Art Online: Infinity Moment. 4Gamer.net also posted their reader reviews score for the title-- 90/100!
Famitsu's own sales estimates for the March 11 to March 17 week have also appeared online, giving slightly different numbers for HD 1.5 ReMIX. Famitsu places the weeks sales at 131,940 copies, making HD 1.5 ReMIX the top-selling game of the week! Either way, these are very good numbers for a HD collection in Japan. We have collected the first week sales of various PlayStation 3 HD collections in Japan below, for comparison:
304,073 - Monster Hunter Portable 3rd HD Ver.
128,414 - Kingdom Hearts HD 1.5 ReMIX
89,112 - The ICO & Shadow of the Colossus Collection
59,060 - Metal Gear Solid HD Edition
44,221 - Devil May Cry HD Collection
43,265 - Zone of the Enders HD Collection
39,900 - Metal Gear Solid: Peace Walker HD Edition
13,064 - God of War Collection
7,280 - Silent Hill HD Collection
6,404 - Ratchet & Clank Collection
5,542 - God of War: Origins Collection
As you can see, Kingdom Hearts HD 1.5 ReMIX is off to a great start in Japan. In fact, as far as we can tell, this is the second-fastest selling HD remaster in Japan of all time. Congratulations to the Kingdom Hearts series!
Update: Sales information for the second week of HD 1.5 ReMIX's release (from March 18 to March 24, 2013) have been released. Media Create has the amount at 29,401 copies, for a total of 157,815 copies so far; while Famitsu has the amount at 31,481 copies, for a total of 163,421 copies so far.
Kingdom Hearts for PC Browsers19 March 2013 by DChiuch
Square Enix have updated the official website for Kingdom Hearts χ[chi] (pronounced "Kingdom Hearts Key"), the upcoming Kingdom Hearts web browser game for Japan. This update is to reflect the fact that beta applications are now closed, the beta invites have been sent out, and the closed beta testing period is set to begin on March 22, 2013 (and close on March 25). The website now says "COMING SOON".
Official website for Kingdom Hearts χ[chi]
bKvEBVAvUq was among the people to receive a beta invite, and thanks to him, the invitation email can be seen below.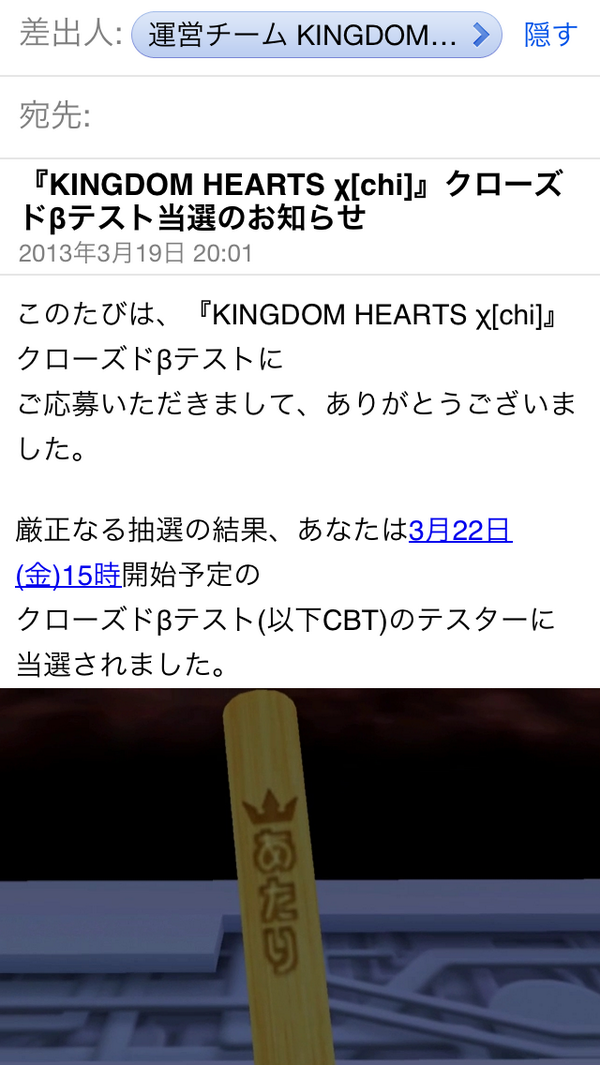 tomerc10 from KH13 was also selected for the closed beta test. tomerc10 was kind enough to share the full invitation email on our forum, and thanks to goldpanner, we now have a full translation of this email. You can read it below.
We would to thank you on this occasion for applying to participate in the KINGDOM HEARTS χ[chi] Closed Beta Test. As a result of a strictly impartial lottery, you have been selected to be a tester in the Closed Beta Test (hereon CBT) scheduled to commence at 3pm on the 22nd March (Fri). Congratulations!!
Please access the official KINGDOM HEARTS χ[chi] website () and log in with the Yahoo!Japan ID and password that you registered in your application.
The CBT is scheduled to run from 3pm on the 22nd March (Fri) until 3pm on the 25th March.
The idea of this CBT is to have you play a section of KINGDOM HEARTS χ[chi] for us in advance. We truly hope that you enjoy it, and we would be very happy if we could receive your opinions after you have played.
First, you are to create your own avatar, and assemble a team of up to a maximum of 30 people. (The composition of teams will be assigned automatically.) For the duration of the CBT, you will be competing with assigned opposing teams to obtain and pool fragments of light called Lux. Every day there will be a tally to determine which team has pooled the most Lux, and the victors will be awarded a prize.
*Points*
- Collect raw materials from the field ⇒ use to enhance your Keyblade.
- Battle enemies ⇒ experience points (necessary to level up), potentially obtain cards, Lux etc.
- Collect cards from treasure chests ⇒ obtain cards that will increase hit points during battle.
- Card Draw ⇒ obtain cards necessary to execute attacks in battle.
- Boss Raid ⇒ co-operate with your team to defeat bosses for a chance to earn large quantities of Lux.
Set your sights on making use of card synthesis and Keyblade enhancement in order to gather even more Lux to be victorious!
The KINGDOM HEARTS χ[chi] official website () and KINGDOM HEARTS χ[chi] official twitter (https://twitter.com/_KINGDOMHEARTS) will be updated as necessary.
*If you've received this e-mail in error:
This e-mail was sent to those who applied to participate in a Closed Beta Test of KINGDOM HEARTS χ[chi]. If you have received this message in error, we apologise for the trouble and ask that you please delete this e-mail.
━━━━━━━━━━━━━━━━━━━━━━━━━━━━━━━━━━━
*KINGDOM HEARTS χ[chi] official website:
*KINGDOM HEARTS χ[chi] official twitter: https://twitter.com/_KINGDOMHEARTS
Hashtag: #_KH
*KINGDOM HEARTS χ[chi] official blog:
━━━━━━━━━━━━━━━━━━━━━━━━━━━━━━━━━━━
*This is a post-only e-mail address. Please be aware that replies to this email cannot be responded to.
HD 1.5 ReMIX18 March 2013 by DChiuch
Famitsu.com have posted an article containing an interview with Yoko Shimomura, the composer of the Kingdom Hearts series, and the sound team for Kingdom Hearts HD 1.5 ReMIX. The article coincides with the appearance of the title in the March 14 issue of Famitsu Weekly, and reveals a lot of behind-the-scenes information about the work that went into the audio remastering for HD 1.5 ReMIX. Shimomura also discusses what she might do for the possible, upcoming HD 2.5 ReMIX. goldpanner has translated the article, and thanks to her, it can be read below. Enjoy!
INTERVIEWING THE KINGDOM HEARTS -HD 1.5 ReMIX- SOUND TEAM: WHY WE'RE GOING TO LOVE THE RE-RECORDED MUSIC
Presenting an interview with some of the individuals involved in the sound of Kingdom Hearts -HD 1.5 ReMIX- for PS3: Composer Yoko Shimomura, Square Enix synthesizer operators Keiji Kawamori and Hirosato Noda, TaQ from ongaq, responsible for strings arrangement and recording, and Yusaku Tsuchiya from gaQdan, ongaq's specialty recording orchestra responsible for the musical performance.
(18/3/2013)
The music of Yoko Shimomura, played anew on live instruments!
The three titles that make up the first section of the story of Square Enix's Kingdom Hearts (hereon KH) series, KH Final Mix, KH Re:Chain of Memories and KH 3582 Days have been remastered in HD and offered on the PS3 in one title as KH -HD 1.5 ReMIX- (released 14th Mar 2013). To go with the HD remastering, some of the music for this title has been re-recorded with live instruments.
Famitsu.com conducted an interview with composer Yoko Shimomura, Square Enix synthesizer operators Keiji Kawamori and Hirosato Noda, TaQ from ongaq, responsible for strings arrangement and recording, and Yusaku Tsuchiya from gaQdan, ongaq's specialty recording orchestra responsible for the musical performance, in which we heard episodes that occurred during recording and their thoughts on the KH series.
---Firstly, please each of you tell us your role in KH 1.5.
Shimomura: I stood in on the recording of the re-recorded tracks, and directed the musical performances. Plus, I was in charge of checking the mixed tracks.
Kawamori: I was in charge of planning the re-recording and track mixing.
Noda: I worked on mixing the recorded music with other instruments, just like Kawamori.
TaQ: I... was in charge of giving people courage (laughs). I'm not sure how to explain the details of my role, now that it's done... My main jobs specifically were taking the tracks that Ms Shimomura had written and arranging them into sheet music for live instruments, and managing the progress of recording.
Tsuchiya: As the orchestra's concertmaster, my responsibility was focused on the musical performances.
(*concertmaster: the person who takes care of the orchestra. Typically this role is filled by the leader of the first violin section.)
---We know that gaQdan is a specialty recording orchestra, but what exactly is a specialty recording orchestra?
TaQ: My goal with gaQdan is to offer something like what Netprint does with postcards, but as an orchestra service. Today's game consoles have high specs that allow orchestral music to be used as-is. However, on old game consoles, the number of useable sounds were limited. What was implemented on those consoles was the crystallised efforts of composers who had to use their ingenuity to work within 4-bit or 16-bit limitations.
---Compared to orchestral music, there are overwhelmingly few sounds, aren't there?
TaQ: Yes. See, with an orchestra, you have about forty parts altogether, woodwind and brass and such, playing sounds at once. Because of this, to perform music created for old games with an orchestra, you must increase the number of sounds while trying to hold the integrity of the piece.
---As non-professionals, we can't imagine how you would go about 'increasing the number of sounds'.
TaQ: I am sure that even among pros there would be many unfamiliar with orchestration and who wouldn't know how to start. That's why I wanted to make the gaQdan recording service something that people could use with ease, even if they didn't have all the complicated knowledge. There's a service called 'Netprint' where you can send pictures you drew or photos you took and they will print picture postcards for you, right? The idea behind our establishment was along those lines... that if you sent music to ongaq, even if it was not made for orchestra use, we would record it with an orchestra for you. I believe that we put that idea into reality with KH -HD 1.5 ReMIX-.
---How interesting. Now then, could you please tell us the details behind how you came to be re-recording the music for KH -HD 1.5 ReMIX-?
Kawamori: About two seconds after I heard they'd decided to make KH -HD 1.5 ReMIX-, it popped into my head that I wanted to remake the music in our current style, too. Well, those old tracks made with the built-in tone generator (*when the BGM plays using a synthesiser program created within the performance range of the gaming console) still sound amazing even now, despite the restrictions under which they were created. I had the privilege of working with Ms Shimomura on KH Birth by Sleep, which adopted audio streaming (*when pre-recorded music is played as BGM. Rich tones can be reproduced without much depending on the capacities of the console). I thought that if we made use of our know-how from that in KH -HD 1.5 ReMIX-, then we could allow the fans to enjoy the music all over again just like they would be enjoying the new HD picture.
Shimomura: It all started with talks happening somewhere without me (laughs).
Kawamori: That was when I invited the unaware Ms Shimomura to a lunch meeting to propose that we remake the music.
---Ms Shimomura, what did you think when you heard what Mr Kawamori had to say?
Shimomura: I said, since we're doing it, let me do whatever I can. I thought, 'hm, this lunch is expensive' (laughs).
---(Laughs). In all, how many tracks did you remake for this title?
Kawamori: Practically everything from KH Final Mix. We also recorded a selection from KH Re:Chain of Memories and KH 358/2 Days.
TaQ: I first heard from Mr Kawamori that there were 66 tracks, and even as I was gasping about that number, it steadily increased (laughs).
Shimomura: There were more tracks than I thought in KH Final Mix, see. There were versions of the same song but organised differently, or with the intro cut.
Noda: We'd start up the PS2 ROM to check, wouldn't we?
Kawamori: Yes, stressing out over which version was used in which scene.
---And so, why did you commission gaQdan to record the stringed instruments?
Kawamori: I had struck up an acquaintance with TaQ some time before, and when I came to be re-recording the music for KH -HD 1.5 ReMIX-, I remembered seeing an interview in Famitsu on his work on Crimson Shroud... so, I said to him, there are a lot of tracks, but how do you feel about doing it?
TaQ: I immediately replied that I'd do it, but to be completely honest here, I thought that 66 tracks had to be impossible (laughs). Recording took place in a huge hall in the Tokyo Metropolitan area around September 2012, and since of course the hall had to be unavailable for long periods just when we needed it, we had to finish recording in one day and that was that. We had to be out of the hall by 9:30pm, but by the time it was 7:30pm we hadn't even finished recording half...
Shimomura: You're saying it with a smile now, TaQ, but on the day you scared me. Your smile started fading away... (laughs).
TaQ: The orchestra members were running out of breath, and conversations stopped (laughs).
Shimomura: But, the orchestra members were so dedicated.
Tsuchiya: That's the difficult thing about orchestral recording. All the instrument sounds are recorded in one go at the same time, so you can't just go in after and replace one instrument or add a layer. It was a severe spot that required the orchestra members to play for twelve hours with no mistakes. But, since the hall had great acoustics, and some members of gaQdan were KH fans who started getting excited as they recognised songs, the orchestra members were very passionate.
TaQ: The moment when the musicians became one entity to finish the last few... I don't think I'll forget it as long as I live.
Shimomura: Every minute was precious, to the point where nobody even went to the toilet.
TaQ: When we finished, I was so overcome with emotion that I started applauding.
Shimomura: I wondered if perhaps the remaining time would stress them out and affect their performance, and if so, whether I should give up on a few songs and have them focus on the ones we were up to... but, in the end, thanks to all of their tremendous focuses, they were able to record for me every single song I had requested.
---Noda, Kawamori, Shimomura, what was it like listening to the musical performance?
Noda: I was astonished at what they managed to do in so little time. They gave a convincing and high quality performance.
Kawamori: With electronic music you have to make fine adjustments in order to have it sound as though it were live, but we were able to use the music that was performed for us as it was, so... it made our lives easier (laughs). I am so grateful that they performed that many tracks for us.
Shimomura: I am sure that for the past ten years, gamers have carried strong impressions of the original tracks. Seeing as the old tracks do have the characteristic power of the built-in tone generator, I hate being told that by using live instruments the 'music is nicer but it lost its punch'. With this title, without me even asking, gaQdan treated the image from the original song with utmost care, so I am very happy.
Tsuchiya: Seeing as the original built-in tone generator music was so cool, we kept in mind to not lose that punch with our performance.
TaQ: In RPGs, the battle music is probably what you hear the most often. Battle music is often written loaded with staccato phrases to raise tension for the player, I believe. But, orchestra instruments are not designed to burst out strong, loud sounds by nature. Because of this, if you perform using the pure classical playing style, it will sound nice, but it won't have that aggressive feel. As I actually personally started with electronic music, I investigated with gaQdan into how to bring out that aggressive feel on stringed instruments. There are ways of playing that bring colour into the sound, and ways of playing that bring out a sensation of speed... we built experience with many variations of play styles.
Tsuchiya: I am happy that we were able to use the results of that research in this title. Putting it into practice meant we consciously changed our ways of playing depending on the song.
TaQ: With battle music, you really need that bold rock-guitar nuance, so we boosted the number of people playing middle and low register instruments. A normal orchestra will have the most people in the first violin section, but this time, since we knew that the melody would be carried by the flutes and such, we decided we didn't need to increase the number of violins.
Shimomura: The performance we received could be perfectly described as a 'version upgrade' for everyone. Even the methods of recording were innovative.
TaQ: We started our arrangement work by grouping the tracks in the same key and the tracks that would give the musicians similar emotions. We listened to those nearly 70 tracks over and over again to sort them into groups of tracks we could perform consecutively. With that much music to do, we had no time to waste on resting and re-preparing after finishing one performance before starting the next recording. There were instances where we played about 16 tracks consecutively.
Tsuchiya: There were also instances where we played for 30 minutes straight. Though there were about 70 tracks, in practice I worked with them like five long tracks.
---So, thanks to that solution, the performers were able to stay in good spirits while playing for over ten hours?
Shimomura: We had many proposals over how to go about recording for a whole day without wasting time or people losing spirit.
TaQ: As you might expect, after that sort of hardship, we ended up with great music. You can definitely make great music electronically, but in the end, when musicians pour their emotions into a performance, you can be sure that their music will have the setting unfolding before your eyes. KH -HD 1.5 ReMIX- looks so beautiful, so when the music flows with the scenes, I believe that gamer's hearts will be moved.
---Did Shimomura have any requests regarding the musical performance?
Tsuchiya: Ms Shimomura was particular about the tightness and vehemence of the bass. She didn't want to lose the vehemence of the electronic version.
Shimomura: I tried to get it across making noises, like, 'make it sound like ksssh ksssh'.
Tsuchiya: But when you said 'kssh' out loud like that, we could hear the way it resounded back in the hall, so we understood what sort of sound you were looking for.
---It's easier to convey things that way then explaining it theoretically, then.
Shimomura: Also, when I am writing music, I imagine the person playing the instrument. When we were recording, I was making gestures like I was playing, like, 'I want this part to feel like they're so into it that they're leaning forwards playing. That sort of feeling...' but, since I was a bit far away from where everyone was performing, they said 'sorry, we can't see you' (laughs).
---So when you are composing, you don't only think of sounds, you think of pictures.
Shimomura: I can't play the violin, so it's just my image of it (laughs). There are powerful images that stuck in my head of amazing solos I've seen concertmasters playing at concerts, that sort of thing. Sometimes, I write music hoping that somebody would play my music like that.
---A question for TaQ and Tsuchiya. What do you think is characteristic of Shimomura's music?
TaQ: She has characteristic scales. For example, 3-3-3-2... and, that bass string rhythm. Like, duhkuh-dun, duhkuh-dun,duhkuh-dun. After spending my entire time on this job analysing the written music for Ms Shimomura's tracks, I feel like I was slowly becoming able to write Shimomura melodies myself (laughs).
Tsuchiya: That bass strings rhythm is so striking, it still comes back into my head sometimes.
Shimomura: Back in those days there was a limited number of tones, and there weren't more than two channels to delineate the string instruments. So, the parts an orchestra would organise into first violin, second violin, viola, cello and double bass, I had to make with two channels. I tried my best to create something that felt close, thinking the whole time about how I really would have wanted it to be expressed on stringed instruments (laughs). And so, I did things like just having those two tracks repeat a simple rhythm, and I think I made a weird sort of progress on a lot of points.
TaQ: I think it was originally composed with concepts like 'this is orchestral' and 'this is chamber music'. Before writing music for games, an image of the sound is usually bouncing around inside your head. Upon receiving Ms Shimomura's sheet music, I spent some time thinking about the image each track was written with.
Shimomura: TaQ checked in with me many times to make sure that the image in his head matched the one in mine, but every time he asked, his arrangements were exactly right.
---By the way, which piece was the most difficult to perform?
Tsuchiya: First I'll just say that they were difficult in general (laughs). The gummi ship song, and... then, this one. The one with the difficult rhythm that went dan-da-dadada-dadadadadadadada... I was delirious when I played it, the name won't come to me (laughs).
Shimomura: I think you mean The Deep End. I'm sorry I made the rhythm so hard to play (laughs).
---Can you tell us about any episode that left an impression on you from during recording?
Kawamori: On the day of recording, it was a lovely clear morning. But then as the day turned to afternoon, right when everyone was getting desperate about how there was no time, outside it started pouring with rain.
---It's like the rain was a symbol of your feelings (laughs).
Kawamori: I did think, a mood like this and rain like this... and when we finished recording, it cleared up again. I was surprised, it really was as though the weather was reflecting how our recording went.
Shimomura: I was surprised realising it must have rained when I saw that the ground was wet.
---Now, after the recording work with gaQdan, how did work on mixing go?
Noda: It went pretty smoothly for me, because I received the sounds already mixed to an extent.
Shimomura: I was always asking you to do one more thing at the final mix checks. I'm sorry for everything (laughs).
Kawamori: That's the way it always goes (laughs).
Shimomura: I think, it's such a tiny thing, I probably shouldn't say anything, but then I go and say it. It's because I know how it feels to regret not asking for a part to be corrected, and once it's out in the world, being like 'aww I wish I'd asked about that one note'.
Kawamori: During the stage where we put the sounds together, the track is still fuzzy in my head, but through Ms Shimomura's direction, when I listen to the final product, I think, it really did become KH music, didn't it. It feels like it has the KH seal stamped on it.
---Did listening to the music from ten years ago bring back memories?
Shimomura: It really is like, has it already been ten years? Is it still only ten years? When I listen to the music, I have so many flashbacks... like, 'it was so hard to get this song okayed' and such (laughs). And, sometimes my impression of the song has changed since the old days, like when I think 'this song is even cooler than I thought it was!' There's both nostalgia and new discoveries. As there were no plans to make the first KH into a series, we made it this far thanks to everyone's support and love. It's amazing that that game from ten years ago has been born again with a makeover, and I am incredibly happy that I have been able to be involved in these works.
---If KH -HD 2.5 ReMIX- were to come out, would you re-record the music?
Shimomura: KH2 uses the built-in tone generator too. In the KH series, the battle music and field music cross-fade so we had to include the data of both battle and field tracks compressed to what would originally be the memory of one track. I was so glad that we could use live music this time... If KH -HD 2.5 ReMIX- comes out, there's no way I'd just leave the built-in tone generator in as is (laughs). I couldn't betray everyone's expectations like that. There are around 100 tracks, though...
---Sounds like recording would be even more difficult (laughs).
Shimomura: In KH2 I used strings purposefully in many tracks, such as wanting the violins to build steadily when the music for the last boss starts, which I think it would be beautiful done with live instruments.
---We are sure that the fans would be very happy to hear the music of KH2 performed with live instruments. Well then, please give us a final word and message for our readers.
Kawamori: Starting with gaQdan, so many people participated in recording for KH -HD 1.5 ReMIX-. I believe that their feelings are expressed in the music that they participated in so passionately, everyone. Please make sure you hear it.
Noda: I would love for people to play the game and compare the difference they can hear between the sound in this title and the sound from the days of the PS2. I think the sound is now very powerful, so please enjoy it.
Tsuchiya: I was only directly involved in KH -HD 1.5 ReMIX- for the twelve hours that I performed, but, I wonder if perhaps in those twelve hours I was able to put in what has been passed down through the KH series so far. I hope you enjoy it.
TaQ: This job was a challenge for all members of gaQdan. The first track, with such a short recording time... If someone had said, 'we can't do this, can we?' then we would have crumbled. But instead everyone involved in the project was thinking first and foremost that we wanted to make something great, so we were able to face the challenge with optimism. I will never forget that day of recording. That one day was only a tiny piece of the overall game development period, but we crammed it with far more than one day's worth of our best effort. So, I would be very happy if everyone who plays the game thinks our music is interesting.
Shimomura: So much has been said already now (laughs)... With this title, I recommend all the tracks, but among them, there is one in particular I would love for people to look out for. The music that plays at the end of KH 358/2 Days, Vector to the Heavens, was a track that many people told me they loved, and it has been re-recorded. Beginning with a performance by pianist Benyamin Nuss, it is an extremely lovely track, and I hope everyone enjoys listening to it.
HD 1.5 ReMIXKingdom Hearts for PC Browsers15 March 2013 by DChiuch
The latest broadcast from Square Enix Channel, the official radio show from Square Enix, has focused on both Kingdom Hearts HD 1.5 ReMIX and Kingdom Hearts χ [chi] (pronounced "Kingdom Hearts Key"). The hosts of the show talk with Tatsuya Kando, the co-director for χ [chi], revealing new details about both of the titles. Thanks to goldpanner, you can read a translation of the details below. Be sure to check out the χ [chi] details, as they are particularly interesting. Enjoy!
Tatsuya Kando
- Co-director of KH Key and animation supervisor of KH 1.5
- Has been with Square Enix for 15-16 years
- First game was FF7
- Has worked with Nomura for a long time
HD 1.5
- It's awesome that they can make these sorts of titles now thanks to blu-ray
- Everything looks super pretty in full HD on the PS3 hardware
- It was a huge task to resize it to 16:9 aspect ratio
- The hosts remarked on how this is the third iteration of KH Chain of Memories, from GBA to PS2 to PS3!
- People who only played the GBA version of CoM are going to be absolutely stunned
- The hosts were amazed to hear how long the video volume is, they joked about it approaching the level of Schindler's List in length and congratulated Kando on having basically made a HD full length film!
- Kando recommends those who have already played KH1 to enjoy an even more beautiful version of the game, and those who played Final Mix to experience it in Japanese
- They talk about the bonus KH Key battle support sets that come with first-run editions and e-store purchases of the game (the set will come in handy when you start KH Key, with rare Sora and Riku cards you can use right away, munny that can be exchanged at moogle shops, and card draw points that are used to restore battle energy during the adventure and will come in handy during boss raids)
KH Key
- When the 'key' in 'keyblade' is written as χ, it refers to the χblade, the original keyblade mentioned in previous games such as BBS
- Everyone in KH Key isn't running around with χblades; their keyblades are people-made, though Kando would liken them to 'cheap versions' rather than fakes
- Players in KH Key each serve as heroes with their own keyblades
- As it's a little difficult to translate the world of the action-RPG series into something suitable for a PC browser game, the world of this game is more like a fairy tale than directly like the world of Kingdom Hearts that Sora and Riku appear in
- They went with mouse click commands rather than the same sort of controller-based play in other games in the series because of the nature of the platform
- Inside the world of the game, your goal is to collect light called 'Lux'. People have been divided into five large groups which are struggling over the light. The player is collecting light as a member of one of these, and we will see which one comes out on top
- To collect light you search different Disney worlds while defeating Heartless
- There is raw material scattered around that you can collect to strengthen your keyblade
- As things stand right now, they aren't planning to have player-on-player battles, it's more aimed at calling people over to co-operate
- There might be patches and updates with new features
- The biggest thing they are working on are boss raids, where you form a team and race other teams to see who can defeat a gigantic boss first etc (the hosts note that the bonus battle support sets would be useful here!)
- The game is free to play and should be simple enough for any KH fan (or Disney/FF fan who is interested in the setting) who isn't familiar with browser games to try
- There are a huge number of cards to collect (one host will try his hardest to get a Tifa card!)
- Keep an eye on the KH portal site for updates
- They are working really hard to make something fun for everyone so please look forward to it!
HD 1.5 ReMIX14 March 2013 by DChiuch
Apparently, the end credits for Kingdom Hearts HD 1.5 ReMIX show footage from Kingdom Hearts II, Birth by Sleep and coded. This could imply that the next HD collection, a possible "KINGDOM HEARTS HD 2.5 ReMIX", could contain these three titles. We'll update you as more information appears.
Update: Leta_jp from Twitch.tv has streamed the credits in question, confirming that they do indeed contain footage of Kingdom Hearts II Final Mix (it is definitely Final Mix, as the Heartless have alternate colors), Birth by Sleep and Re:coded but NOT Kingdom Hearts 3D. We have uploaded a video from this livestream showing the HD 1.5 ReMIX main title and credits, where you can see the mysterious footage hinting at HD 2.5 ReMIX. Enjoy!
Kingdom Hearts HD 1.5 ReMIX has finally released in Japan! HD 1.5 ReMIX is a collection for the PlayStation 3 containing remasters of Kingdom Hearts Final Mix and Kingdom Hearts Re:Chain of Memories, as well as a HD Theatre Edition of Kingdom Hearts 358/2 Days. Our coverage of the game begins now! This news post will remain pinned at the top of the homepage, be regularly updated, and contain links to all images, videos and information surrounding the game. If you want to discuss the game, please use the HD 1.5 ReMIX section on our forums!
Livestreams
Leta_jp from Twitch.tv (Recording 1 | Recording 2)
Note: If you receive your copy of HD 1.5 ReMIX and are planning to livestream yourself playing it, then please send us a message or leave a comment and we will add your livestream to our homepage!
Videos
- Kingdom Hearts Final Mix title screen & opening (Source: TheVenXIII from KH13)
- All of 358/2 Days + 6 hours of Kingdom Hearts Final Mix (Source: Leta_jp from Twitch.tv)
- More Kingdom Hearts Final Mix (Source: Leta_jp from Twitch.tv)
- 358/2 Days opening (Source: KingdomHeartsD from YouTube)
- HD 1.5 ReMIX unboxing video (Source: Cyberman65 from YouTube)
- All 358/2 Days cutscenes (Source: Cyberman65 from YouTube)
- Kingdom Hearts Final Mix Playthrough started (Source: Cyberman65 from YouTube)
PlayStation 3 custom themes
Various PlayStation 3 custom themes were released along with HD 1.5 ReMIX. The collection itself provides an unlockable theme for each title included (all 3), while themes were also released as pre-order bonuses. We will add download links when/if they become available. For now, enjoy these photos!
Unlockable theme selection
Kingdom Hearts Final Mix unlockable theme
(thanks to bKvEBVAvUq)
358/2 Days unlockable theme
7-Eleven pre-order bonus
(thanks to ArikaMiz)
Re:Chain of Memories
Thanks to
@bKvEBVAvUq
.
Trophies
HD 1.5 ReMIX has PlayStation 3 trophy support. The two playable titles in the collection, Kingdom Hearts Final Mix and Re:Chain of Memories, each have their own full-sized trophy set, while the HD Theatre Edition of 358/2 Days has its own PSN-sized trophy set. Kingdom Hearts Final Mix has 56 trophies (1 platinum, 2 gold, 4 silver, 49 bronze), Re:Chain of Memories has 48 trophies (1 platinum, 2 gold, 9 silver, 36 bronze), and 358/2 Days has 6 trophies (3 gold, 3 bronze).
The full list of trophies, including their images, names and descriptions, can be seen here. Be sure to check it out! Good luck unlocking all 110 trophies!
Promotion
Square Enix's e-STORE has uploaded photos of promotional items of HD 1.5 ReMIX to it's Facebook page.
Square Enix have uploaded high definition screenshots of HD 1.5 ReMIX.
Changes from original games
Overall changes:
- The title supports video output of 480p, 720p, 1080i and 1080p
- Supported audio outputs are Dolby Digital 5.1 sound and DTS Digital Surround 5.1
- PlayStation 3 trophy support is added (see the section above)
- Completing each title will unlock a custom PlayStation 3 theme (see the section above)
- Character models and textures have been updated
- Background music has been remastered with live instruments
- Here's what the title selection screen looks like
Kingdom Hearts Final Mix changes:
- This is a HD remaster of Kingdom Hearts Final Mix
- The "Zero EXP" and "Combo Master" abilities are added to the game
- The right analogue stick now controls the camera
- Summons have been moved to the 4th command slot
- The talk and special attack commands have been moved to the triangle button
- Cutscenes are now skippable
- The Final Fantasy X-2 trailer on the game's main menu been replaced by a "back" button, to return to the collection title selection screen
Kingdom Hearts Re:Chain of Memories changes:
- This is a HD remaster of Kingdom Hearts Re:Chain of Memories
- New cards appear to be unlocked after completing 358/2 Days or a certain part of it. You can view a picture of each them by clicking these links: Keyblade card, Keyblade card, Keyblade card, Keyblade card and a Saïx card thanks to @bKvEBVAvUq.
Kingdom Hearts 358/2 Days inclusions:
- This is a HD theatre mode edition of Kingdom Hearts 358/2 Days
- Here's what the main menu looks like
- 2 hours and 50 minutes of HD, fully-voiced cutscenes are included
- There are 109 cutscenes, called "chapters" included
- All of Roxas' diary entries, the Secret Reports and the Character Database are included
Recent important articles
In case you missed any of these important articles!
- HD 1.5 ReMIX sold early, with photos of disc artwork, game selection screen & trophy list
- Complete HD 1.5 ReMIX trophy listing revealed
- Kingdom Hearts X [chi] official website launched
- Official HD 1.5 ReMIX campaign website "The Memory Theatre" launched
- HD 1.5 ReMIX website updated w/ wallpapers, TV commercial, Re:Chain of Memories screenshots & information
- Famitsu.com posts new HD 1.5 ReMIX screenshots, images & director interviews
HD 1.5 ReMIX13 March 2013 by Arturo Molina
Famitsu.com have posted an article in celebration of the release of Kingdom Hearts -HD 1.5 ReMIX- in Japan. The article coincides with the appearance of the title in the March 14 issue of Famitsu Weekly, and includes many screenshots, images and information from the article. Check out all images below, in our gallery! The article also includes recent interviews with Tetsuya Nomura, the director of the series, and Tai Yasue, the co-director of the game. Look forward to our translations of this!
Update: goldpanner has done us a huge favour and translated both the Tetsuya Nomura and Tai Yasue interviews included in the article! These interviews reveal a wealth of information about HD 1.5 ReMIX, so please check them out.
STAFF INTERVIEWS
Interview with Director Tetsuya Nomura
---Please tell us about any points that gave you trouble or things you were fixated on achieving when it came to KH 1.5.
Tetsuya Nomura (hereon Nomura): For some titles, most of the data from back in the day was no longer available. I had the programmers search through the program manually, and from there they told me various places where raising quality would be impossible. I was fixated on remaking KH 358/2 Days as a video volume and putting the three titles leading to KH2 into one.
---Which particular scene would you recommend from the HD compilation?
Nomura: For those who have already played these games, I am sure that it's not the prettiness of the graphics but rather the memories involved that will be powerful... Seeing as story-wise all scenes have been covered before, I think it will depend on everyone's individual impressions. When KH Re:COM released on the PS2 the image quality wasn't very good due to capacity issues, so perhaps seeing the high resolution product will be fresher than you realise.
---Please tell us about your concept for the box art, and any points you want to draw our attention to.
Nomura: I drew a similar design for the soundtrack of the first game, but seeing as it had little opportunity for exposure, I decided to channel the title itself and remake and remaster it. Also, I felt that having three titles meant I should have three separate images.
---A final message for gamers?
Nomura: As KH has become such a long series, I would be happy if newcomers, those who have only played some of the titles, and those who only played the numbered titles take this opportunity to try playing. I want to draw as many people as possible in time for the anticipated final battle.
Interview with Co. Director Tai Yasue
---How did you go about organising work on the HD remake? Had any of the staff worked on the original games?
Tai Yasue (hereon Yasue): As several projects related to the KH series, which I am working on as co. director, are currently running simultaneously, scheduling and organisation has been rather complicated. Five programmers in Osaka and a large number of planners and designers in Osaka and Tokyo were involved with KH 1.5. Not many staff had worked on the original version of KH Final Mix, but among them there were people like Oka (Masaru Oka, cutscene director of the KH 1.5 version of KH 358/2 Days), who have participated wholeheartedly, stubbornly, enduringly and lengthily in the KH series (laughs).
---Were there any points that gave you trouble or things you were fixated on achieving with this title?
Yasue: The controls and abilities were my sticking point. I referred to things that had worked well in other KH titles to revise many areas of KH Final Mix. However, as this was an already completed game, revising things had side effects... For example, there were some bosses that could not be defeated no matter how hard you tried if you played with the new EXPZero equipped. I ended up adjusting things to clear up all kinds of issues right up to the end of the debug period, suffering chilly stares from those around me the whole time. That was a point that gave me trouble (dry laugh).
---Was there something that left you with a deep impression during development?
Yasue: The two programmers that were pivotal to development, who were normally akin to characters from a duo comedy skit, left a deep impression on me when halfway through development we received a bug report from the testers that made them flip out, transforming them into characters with a Berserk status (laughs). Just like how in Final Fantasy the Berserk status ailment boosts attack strength, these two had a boost in C++ strength, and they got to correcting bugs with terrifying expressions on their faces. Since they were also giving off an aura comparable in intensity to that of a berserked FF character, I tried not to go near them out of fear. If I could have given them sound effects it would have been 'vvvvrrrr! RRRRAAAAAAARRRRGH!!' (laughs).
---Which particular scene would you recommend from the HD compilation?
Yasue: I recommend the scene in KH Final Mix, where Peter Pan tells Sora, 'Fly, Sora! I believe you can!' and Sora becomes able to fly, and goes to fight Captain Hook. Not only is the picture prettier, but flying about defeating Heartless is quite comfortable now that you can move the camera freely with the left stick. I remember that even in the original version I was moved by the nice link between the story developments and the battle, but I was moved all over again seeing it reborn in HD!
---A final word for our readers?
Yasue: While developing KH 1.5, I keenly felt how no matter how much hardware changes or techniques evolve, masterful worldbuilding, gameplay, plot and visuals do not lose their shine no matter how many years pass. The three titles included in KH 1.5 were all masterpieces in different ways. They are even more radiant now that they have been reborn onto the Playstation 3, so by all means play them and see!
As expected, Kingdom Hearts HD 1.5 ReMIX has appeared with a major article in the March 14, 2013 issue of Famitsu Weekly. In fact, this article is so important that it made the front page of the issue! While we don't have article information yet, ArikaMiz has scanned the front page of the issue, complete with new Kingdom Hearts Final Mix and 358/2 Days CG artwork. Check it out below, in our gallery.
Update: A small part of an article covering Kingdom Hearts X [chi] has surfaced. You can view it below.