Recent Topics
Poll of the Day
Follow Us
Recent Status Updates
Kingdom Hearts series30 March 2013 by DChiuch
The Kingdom Hearts manga adaptation by Shiro Amano originally begun with the Kingdom Hearts manga in Japan in 2003, and continues to this day. Originally, Tokyopop were in charge of localising the manga and releasing it in North America, however, in 2011 Tokyopop shut down and was unable to continue. This left the Kingdom Hearts manga localisation in a state of limbo... but not anymore!
Yen Press announced today that they have secured the rights to the localisation of the Kingdom Hearts manga. Yen Press will release the Kingdom Hearts Final Mix manga in two volumes starting May 2014, release Chain of Memories in one large volume in June 2014, and will begun publishing the Kingdom Hearts 358/2 Days manga in North America in November 2013. Yen Press noted that in addition to these games, they have also secured the rights to the Kingdom Hearts II manga. Look forward to these official releases later on! Thanks go to VentusX from KH13 for the find.
Update 1: The Yen Press@Scon13 transcript has revealed more information about this future localisation, while contradicting some of the dates from AnimeNewsNetwork. The transcript states that both volumes of the Kingdom Hearts Final Mix manga will release in May 2013, with Chain of Memories following in June 2013, and Kingdom Hearts II following in August 2013. This is said to be followed by art books, and the 358/2 Days manga in Fall 2013. They later clarified that 358/2 Days will first be released in January 2014, with a possible earlier release in November. Thanks go to Weiss from KH13 for the find.
Update 2: Tay Takashi has emailed The Yen Press Team about the manga and their upcoming Kingdom Hearts releases. You can read their response below. Thanks to Tay Takashi.
Hi Tay,
Kingdom Hearts Final Mix will be released as two omnibuses, both available in May of this year.
June 2013 will be Chain of Memories as a single omnibus.
The order afterward is Kingdom Hearts II Vol. 1 (Omnibus), Kingdom Hearts II Vol. 2 (Omnibus), Shiro Amano: The Artwork of Kingdom Hearts, and then 358/2 Days Volume 1 (as a single volume) in November 2013 with subsequent volumes every 2 months.
Lots of Kingdom Hearts this year! We'll have more info about dates up on the site very soon, but all of the books mentioned above will be available over the summer/fall beginning in May 2013.
Best,
The Yen Press Team
Various promotions for Kingdom Hearts HD 1.5 ReMIX in Japan continue to be run, and now, Square Enix have revealed photos of some of the memorabilia to be given away. The "The Memory Theatre" promotion will have winners receive a copy of the game signed by developers, complete with a drawing from series director Tetsuya Nomura. A photo of this can be seen below: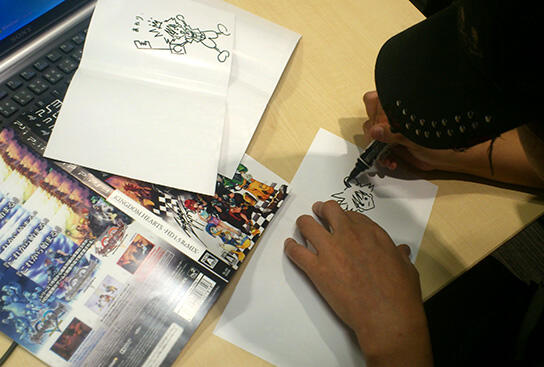 Next, a promotion run by PlayStation Japan will have winners receive a mug set signed by Tetsuya Nomura. Photos of the mug can be seen below, thanks to aibo_ac7 for the find.
Hidemi Matsuzuka has revealed that special Kingdom Hearts themed keychains are being produced. Hidemi uploaded a photo of the keychains to his Twitter, and this photo can be seen below.
Kingdom Hearts series27 March 2013 by Arturo Molina
Today, Walt Disney Company Japan announced that they will stage the first ever "D23 Expo Japan", a special event created by D23: The Official Disney Fan Club. This event will feature various presentations, including (as revealed on Disney Japan's website) a Kingdom Hearts presentation known as "Kingdom Hearts Fun Event". The producer of the series, Shinji Hashimoto, will be attending, as well as many Japanese voice actors from the series. The event is said to contain a lot of content, and reveal behind-the-scenes exclusive information. Look forward to D23 Expo Japan, which occurs from October 12 to 14, 2013! Thanks go to aibo_ac7 for the find.
Kingdom Hearts for PC Browsers27 March 2013 by Arturo Molina
The March 28, 2013 issue of Famitsu Weekly has included an article on Kingdom Hearts χ[chi] (pronounced "Kingdom Hearts Key"), the currently Japan-only Kingdom Hearts game for web browsers. The article explains that while playing Kingdom Hearts χ[chi], the player will join one of 5 teams and compete against each other. The teams are based on animals, and are known as "Unikorunisu" (Unicorns), "Reoparudosu" (Leopards), "Anguisu" (???), "Urupeusu" (???) and "Urususu" (???). A full translation will be available soon.
bKvEBVAvUq has uploaded a scan of the article, and thanks to him, this can be seen below.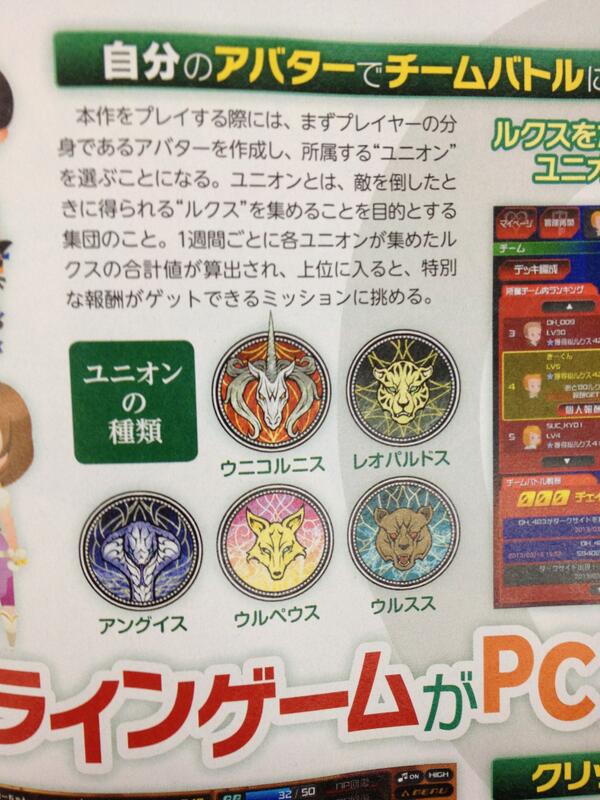 Update: Oishii has translated the information in this scan, which you can read below.
In this work, when a player begins creating their own avatar, they can choose a "Union" to join. A Union is a group with which you kill enemies with the purpose of collecting "Lux". Every week, the amount of Lux collected by each Union is calculated. If you enter the highest rank, you can take part in a mission where it is possible to obtain a special reward.
Kingdom Hearts for PC Browsers25 March 2013 by Arturo Molina
Last week, people were given the opportunity to participate in a closed beta test for Kingdom Hearts χ[chi] (pronounced "Kingdom Hearts Key"), the currently Japan-only Kingdom Hearts game for web browsers. Square Enix opened an official website for the game, and has since added a page describing the gameplay elements of Kingdom Hearts χ[chi], complete with screenshots. Thanks go to tomerc10 from KH13 for this find. goldpanner has translated the information provided on this page, and thanks to her, you can read this translation below.
[How to play]
Slide 1: Welcome to the world of KINGDOM HEARTS χ [chi]!
Journey through Disney worlds and take the light back from the darkness!
Slide 2: Defeat the darkness that has appeared in the worlds, the Heartless!
Defeat Heartless to get Lux (Light)!
Slide 3: Collect Lux (light) to win Team Battles!
The Lux you all collected will be tallied together every night to determine the victorious team!
The winning team will be rewarded!
Slide 4: Defeat Raid Bosses for Huge Gains!
Join in the battle when a Raid Boss appears.
[Worlds]
Slide 1: Simple mouse controls
- Your avatar will move to wherever you click the mouse
- Click Heartless and things that catch your eye! (Heartless, components Items, Treasure Chests)
- Use AP to make actions (TIP: AP regenerates with time)
Slide 2: Dynamic Card Battles!
- Click Heartless to start a battle!
- Defeat Heartless to obtain Lux and cards etc
- Use cards to execute various abilities!
Slide 3: Gather components!
- Synthesise your Keyblade with components to strengthen it!
[Card Synthesis]
Slide 1: About Card Synthesis
- Synthesise your cards to get strong!
- Base card
- components Cards
- Munny is necessary for synthesis
TIPS
- Synthesise cards of the same type (blue, green, red) and the level will rise more easily
- Synthesise the same card to form a Limit Card and raise the card's max level
[Deck Formation]
Slide 1: About Deck Formation
TIPS
- Form the strongest deck easily with 'Auto Form'
- Deck
- Owned cards
- Battle with three cards at a time chosen at random from your deck
Slide 2: About Cards
There are two types of cards!
Attack Cards:
- Attack cards are set with one Ability
- Attack cards have a fixed Attack Strength and Defence Strength!
- Obtain Attack Cards by defeating Heartless and through Card Draw etc
Assist Cards:
- Assist Cards are important cards that decide HP and the Lux you will obtain
- Obtain Assist Cards from treasure chests as you adventure through the worlds
[Keyblade Strengthening]
Slide 1: About Keyblade Strengthening
- Gather components Items to strengthen your Keyblade
- Once you have collected the necessary components, you can strengthen your Keyblade!
- If you match your cards and Keyblade type during battle, you will get an effect up bonus
[Team]
Slide 1: A Raid Boss has Appeared!
- Work together with everyone to defeat the Raid Boss within the time limit!
- Damage the Raid Boss to get Lux to defeat opposing teams
- Battle the Raid Boss using BP!
- The more BP you use, the more damage you deal
HD 1.5 ReMIX24 March 2013 by Oishii
@SQEX_Members_NA held a live stream talking to Mat Kishimoto, Product Manager of Kingdom Hearts HD 1.5 ReMIX, at PAX East 2013. Although no new information was revealed, we are expecting another video from @SQEX_Members_NA of their coverage of HD 1.5 ReMIX in the PR Suite sometime soon. You can watch the interview below. Enjoy!
Kingdom Hearts for PC Browsers22 March 2013 by Sora96
The closed beta test for Kingdom Hearts χ[chi] has begun. Various people were given the chance to play the game before its release, in a closed beta and some of these people have shared screenshots, information and videos about the experience. We have collected together all of these finds below. Enjoy!
Sharde' Allen from KH13, PublicLibraryx from KH13, Zanzetsuken from KH13 and R.J. Wallischek from KH13 have all taken some screenshots and shared their impressions. All of these screenshots can be seen below.
Krowley from KH-Vids has given a detailed summary of the CBT, complete with screenshots. With a big thanks to him, this can be seen below.
Since the CBT for the browser game began today, I thought I would take a few screenshots and give a brief run-through of the Beta test experience.
Starting from the tutorial, players are given limited customization options, but this is expected for the closed beta. As per usual in Kingdom Hearts games, small hint tutorials are given to help move the player along. If you don't speak Japanese, it still won't help. :/
The Beta test offers 3 worlds to visit! Dwarf Woodlands, Wonderland, and Agrabah. While there is nothing particularly different with each world, the layout and music still give it their own individual feel. (I myself, spent most of my time in Dwarf Woodlands)
The gameplay is pretty simple. Once you deck is constructed, it's "Click and attack" from there. Players' decks are made from Ally cards that empower your character's Attack and Defense. Assist Cards also help raise your overall Health. With each level up, Missions are granted that give rewards once completed.
Here are just a few of the cards the CBT has to offer through Treasure Chests and Mission rewards;
Another cool aspect, is the "Encounters" that occur every 15 minutes or so. These are like the raid boss battles of the game.
TheErryK from Twitch.tv has recorded some footage of the game, in a livestream. This can be seen below, thanks to Obiwanjezz from KH13 for the find.
Watch live video from theerryk on TwitchTV
DisneyVideoGames have released the first English trailer for Kingdom Hearts HD 1.5 ReMIX. This is the trailer for the game at PAX East 2013, an event occurring March 22-24, 2013 in Boston, MA. The trailer is an English-voiced version of the Jump Festa 2013 trailer, but does not yet contain English text and lip syncing (though you can expect these in the final version of the game). You can watch the trailer below, on YouTube. Enjoy!
(In case the first upload is taken offline:)